When the country's youngest self-made female billionaire agreed to visit Harvard to receive the third annual Experiment Medal, she had one request: she asked to meet with women students interested in science and engineering.
So on the afternoon of the medal ceremony last week, health tech innovator Elizabeth Holmes sat down with an entrepreneurially-minded audience of women and recounted her journey from college dropout to company founder and chief executive officer.
Holmes was a 19-year-old sophomore at Stanford University majoring in chemical and electrical engineering when she withdrew, hired the professor in whose lab she had been working, and began building what became Theranos, a medical testing company. Her parents took the money they had saved to put her through Stanford and instead invested it in her startup. That was in 2003; today Theranos employs more than 700 people and is valued at more than $9 billion.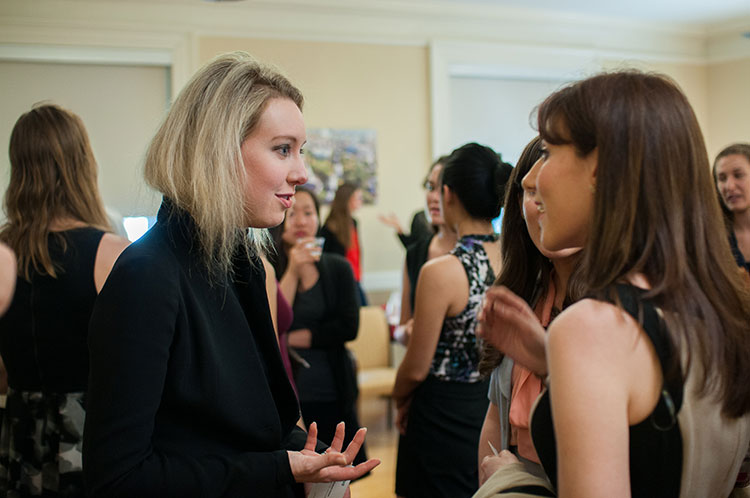 It is not a path she would recommend for everyone, but Holmes did offer some hard-learned lessons during an informal question and answer session moderated by Margo Seltzer, Herchel Smith Professor of Computer Science.
"If your primary motivation is to make money, go into banking; don't start a company," Holmes advised the room full of women students in the Knafel Center. "It has to be something you're passionate about, a problem you really love."
Holmes found her passion in the search for a way to radically improve access to medical test results. "Lab test data drives such a significant portion of clinical decisions in our healthcare system," she said. "I thought there was a way to improve that."
Theranos, whose mission is "to make actionable health information accessible to people everywhere at the time it matters, enabling early detection and intervention of disease," has developed technology that can perform hundreds of tests based on drop of blood, rather than a vial required for traditional testing. And the company says that its FDA-certified approach produces results that are faster, more accurate, and cheaper than conventional methods.
"I knew we were going to fail 10,000 times before it worked," said Holmes, who holds dozens of patents. "The really good ideas are the ones that, early on, people tell you, 'it can't be done.'"
The Experiment Medal is awarded annually by the Xfund, the early-stage venture capital firm founded by Harvard alumni and dedicated to finding and supporting technically-gifted entrepreneurs with a liberal arts mindset.
Since it was established in 2011, the fund has received submissions from 1,879 startups, according to co-founding General Partners Hugo Van Vuuren AB '07, MDesS '12 and Patrick Chung AB, MBA '04, JD '04. (Of the aspiring founders who have knocked on the Xfund's doors to date, 59 percent had Harvard affiliations, 16 percent were MIT-affiliated, and 10 percent had Stanford connections.)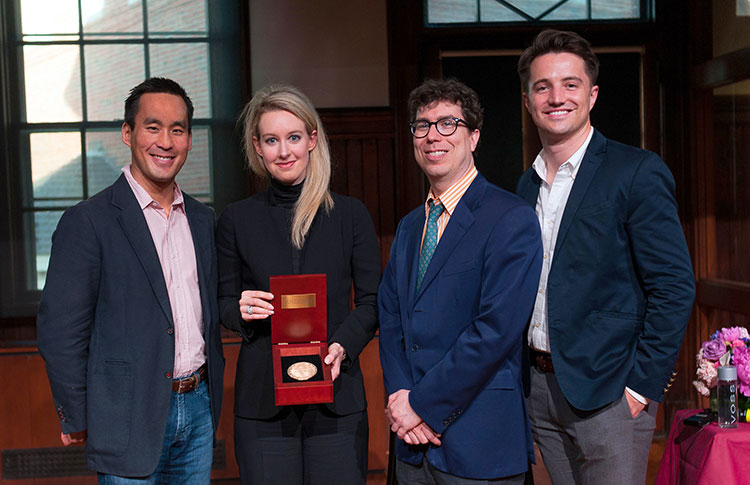 Xfund has provided seed funding— along with strategic advice, personal mentorship, and access to the partners' networks—to successful companies including Kensho, Ravel Law, Philo, Zumper, Landit, and Rest Devices. And Xfund partners have mentored and advised scores of others. In December 2014, Xfund announced that it had raised $100 million in new capital for its second fund, and that it was opening a new Silicon Valley office in addition to its Cambridge location.
At the medal presentation ceremony, Harry R. Lewis, Interim Dean of the Harvard School of Engineering and Applied Sciences (SEAS) and Gordon McKay Professor of Computer Science, recalled that Harvard was not always a hospitable environment for students interested in building companies.
During his decades-long career, Lewis has taught many Harvard students whose entrepreneurial yearnings proved stronger than the drive to complete their academic degrees. That includes two of the more illustrious SEAS dropouts—Microsoft founder Bill Gates and Facebook creator Mark Zuckerberg.
"There has been an extraordinary transformation at Harvard over a short period of time," Lewis said. "Not too long ago, entrepreneurship was something that was done in secret and in hiding. Today, it is something that the University supports and sponsors and celebrates."
Today, Lewis said, "the Xfund contributes to the educational development of students, while helping them translate ideas into businesses."
It is a powerful part of a burgeoning web of resources available to Harvard student-entrepreneurs. The Technology & Entrepreneurship Center at Harvard (TECH), founded at SEAS in 2000, runs the Harvard College Innovation (I3) Challenge and has helped countless students launch businesses. In 2006, Harvard established the Office of Technology Development to support the research, development, and licensing of advances in science, technology, and medicine. The Harvard Innovation Lab was established in Allston in 2011.
Soon, undergraduates will be able to apply to a new year-long fellowship program offered by the Xfund in collaboration with SEAS and Harvard Business School. Xfellows, as participants will be called, will be placed at a startup and gain skills and experience that may prove valuable to their subsequent startup careers.
Even with the growing support system available on campus, Holmes reminded her audience that one intangible ingredient will always mean the difference between success and failure for any startup: the founder's passion for solving a problem.
"When people find what they love," she said, "it is, by definition, what they have the potential to be really good at."
Topics: Entrepreneurship, Awards
Cutting-edge science delivered direct to your inbox.
Join the Harvard SEAS mailing list.
Scientist Profiles
Associate in Computer Science
Gordon McKay Research Professor of Computer Science