"Hands up, utensils down!"
The first-ever "Top Chef Harvard" competition on Dec. 8 at the John A. Paulson School of Engineering and Applied Sciences was a heated battle, and not just because the contest involved a microwave, a deep fryer, and a butane torch.
The four top teams from this term's Science and Cooking: "From Haute Cuisine to the Science of Soft Matter" (SPU 27) course had four minutes to showcase their culinary projects for a panel of celebrity chefs from the popular Bravo TV series Top Chef—Tom Colicchio, Gail Simmons, and Mei Lin.
When the crumbs settled, the judges awarded first place to team "Microwave Baking," comprised of applied math and computer science concentrator Cynthia Guo, A.B. '19, history concentrator Raya Koreh, A.B. '18, and Emily Choi, A.B. '19 (undecided).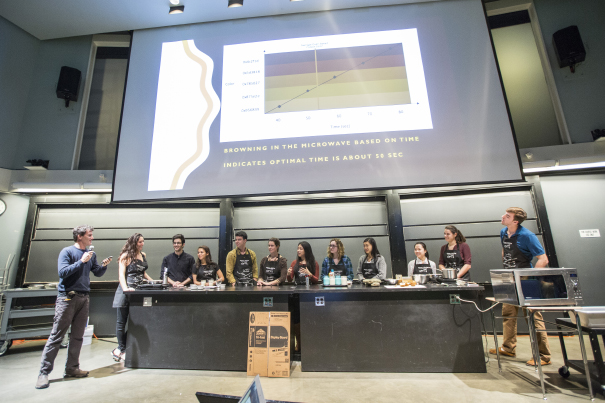 For their project, the teammates experimented to see if baking chocolate chip cookies in a microwave oven could be a good alternative to a conventional oven. They determined that microwaving cookie dough for 50 seconds, then sprinkling granulated sugar on top and toasting it lightly with a soufflé torch was the ideal way to recreate the flavor, texture, and color profile of an oven-baked cookie.
"We are really excited to win first place," Koreh said. "I think our project was picked because it has such a practical application to real life. Our project is something a lot of people will actually be able to use."
Because microwaves cook food from the inside out, the Maillard reaction that takes place to brown the outside of an oven-baked cookie actually occurs in the center of a microwaved cookie. Using a soufflé torch creates that classic, golden brown exterior, without the need to bake the cookie in a conventional oven, which uses much more energy than a microwave, Guo explained.
They described the process to the judges as one teammate gently torched the top of a soft, gooey chocolate chip cookie held inside a small, white ramekin. Colicchio, Simmons, Lin, and cookbook author Harold McGee, who served as scientific advisor to the judging panel, sipped ice-cold milk as they sampled the warm dessert.
"If you're a fan of chewy, chocolate chip cookies, this is a winner," Colicchio proclaimed.
After deliberating briefly, the judges returned to proclaim the "Microwave Baking" team the winner. They said that, while all the students were impressive, they ultimately chose the "Microwave Baking" team because their project combined a solid experiment with a delicious result.
"I was very impressed by how thoughtful the students were," Simmons said. "They did an exceptional job taking what they learned over the course of the semester and applying those concepts to real food processes."
The runners-up included: economics concentrators Branden Clemens, A.B. '16 and  Lauren Reisig, A.B. '16, and molecular and cellular biology concentrator Edna Wang, A.B. '18, who created a self-contained apple pie à la mode; English and computer science concentrator Anthony Pietra, A.B. '16, history and literature concentrator Kia Turner, A.B. '16, and history concentrator Tanner Skenderian, A.B. '16, who created natural sugar by grinding fruit into powder; and environmental science and public policy concentrator Molly Leavens, A.B. '19, and applied math concentrator Max Benigas, A.B. '19, who studied how textural science relates to the physical properties of single origin chocolate.
Even though his team didn't win, Clemens said he still had a blast competing in "Top Chef Harvard."
"This project really taught us to follow your intuition when you develop ideas for an experiment," he said. "We thought outside the box and then followed through on those ideas to come up with a project we are really proud of."
Clemens and his teammates formed one of 10 semi-finalist teams that were chosen by instructors Michael Brenner, Glover Professor of Applied Mathematics and Applied Physics and Professor of Physics, and Pia Sörensen.
"I hope this course has instilled in students an appetite for being scientifically curious about something they encounter everyday, namely food and cooking," Sörensen said.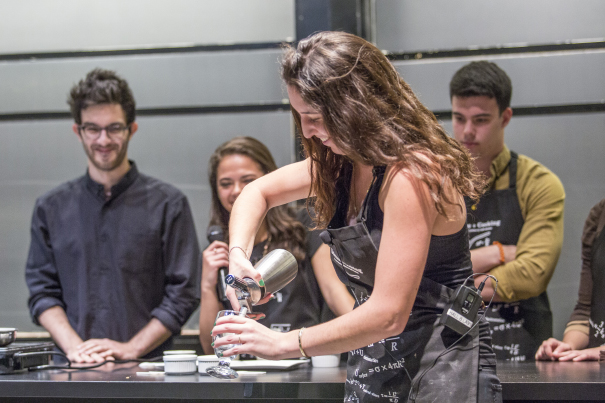 During the SPU 27 final project fair in the Northwest Building, the Top Chef judges met with each semi-finalist team before winnowing the field to four. Brenner, who served as emcee of the "Top Chef Harvard" competition, was impressed by all the projects that were on display. He is confident the students now have a better appreciation for the science behind their favorite foods.
"The whole idea of this class if for the students to learn what it is like to be a scientist through the cooking process," he said. "They experienced frustrations, they tried things that failed, and they got results that they might not have understood right away—these are the same challenges that scientists face."
Simmons agreed that the students demonstrated a strong understanding of many scientific concepts that are involved in the culinary arts. They also exhibited a number of the same qualities necessary to win a competition like Top Chef, she said.
"It takes ambition and drive. You need to understand your weaknesses and your strengths and really work to be the best you can be," she said. "We definitely saw seeds of that here today."
Topics: Cooking
Cutting-edge science delivered direct to your inbox.
Join the Harvard SEAS mailing list.