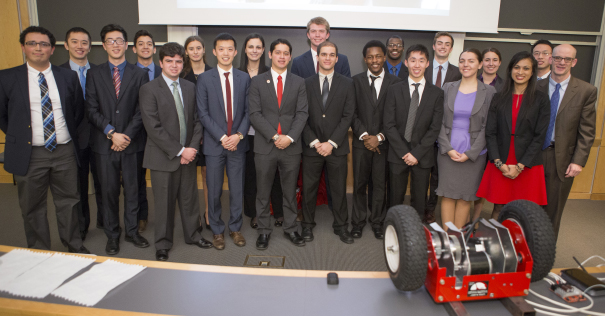 Winter may have finally descended on Harvard Yard, but a group of students have had snowfall on their minds since early September.
These John A. Paulson School of Engineering and Applied Sciences (SEAS) students haven't been hoping for a snow day. Instead, they've been developing tools that could make it easier and safer for their peers to get to class when a blizzard hits.
For their team project in the hands-on SEAS course "Engineering Problem Solving and Design" (ES 96), 18 students worked with Harvard's Facilities Maintenance Operations (FMO) organization to develop equipment that could ease the immense task of clearing snow and ice from walkways and rooftops on the university's sprawling, 5,000-acre campus.
During last year's record-breaking winter, multiple blizzards pummeled the Boston area with about six feet of snow in a 30-day period. Snow and ice forced the university to shut down several times in January and February, Harvard's first campus closures due to severe weather since the epic blizzard of 1978.
The students learned about the challenges faced by Harvard snow removal crews during meetings with FMO administrators, analyzing every aspect of the snow and ice removal process, from storm preparations, to the impact of fatigue on work crews, to the budgetary burden of keeping walkways, parking lots, and entryways passable.
The students winnowed more than 100 initial ideas for safe, efficient, and cost-effective snow removal strategies down to three projects: a robotic snow blower, a snow melting mat, and an icicle cutter.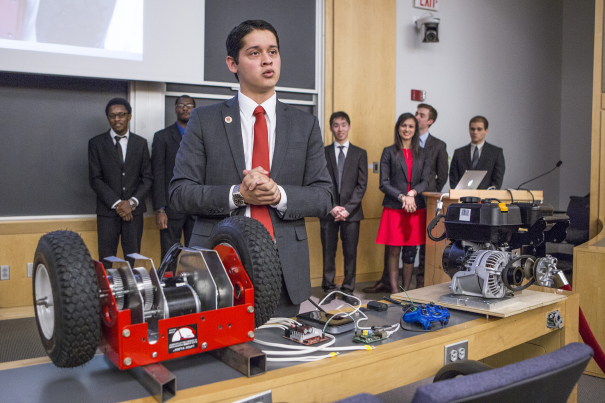 The robotic snow blower, designed to clear snow from a flat rooftop, is a retrofitted commercial snow blower. The students equipped it with two electric motors to control steering and an electronics system that enables an operator to control the machine using a modified video gamepad. The machine is intended to improve safety by eliminating the need for workers to walk near the slippery edges of roofs.
"One of the biggest challenges we faced was combining all the components," said mechanical engineering concentrator Cesar Maeda, S.B. '17. "Not only did we have to understand how the engine worked, how the gears worked, and how the alternator worked, we had to take it one step farther and integrate them all together."
Clearing towering drifts of snow is one thing; melting that snow before it can pile up is another.
For the second component of their three-part project, the students developed a snow-melting mat made from a hydrogel that resists freezing. The students used two compounds to form the hydrogel, alginate and polyacrylamide, which make the mat extremely durable. Salt, held in a reservoir between two layers of gel, diffuses up to the top of the mat, melting snow or ice.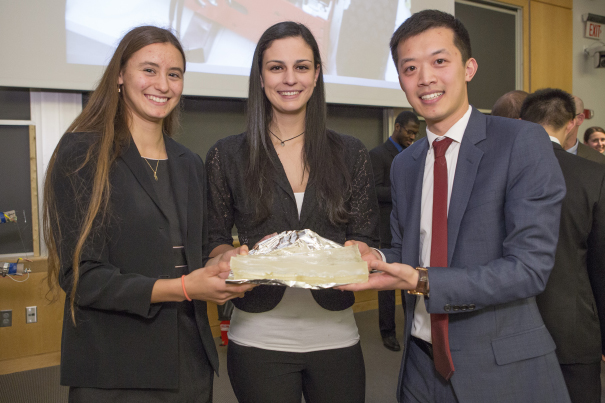 "Since Boston got a record 110 inches of snow last season, we decided that if our mat could melt that much, it would be effective," said biomedical engineering concentrator Alex Yang, S.B. '17. "Mechanically speaking, we also made sure the mat could stand up to a season's worth of being left outside without shrinking or deforming too much."
Along with ice accumulation underfoot, shards of ice falling from above also pose threats to the campus community – and knocking them down can be a hazardous job for workers.
The students developed a tool for icicle removal that a worker can use while standing on the ground. The icicle-cutting pole holds a durable nichrome wire that, when activated, heats to 400 degrees Celsius in less than a minute and is able to cleanly sever an icicle hanging from the edge of a rooftop.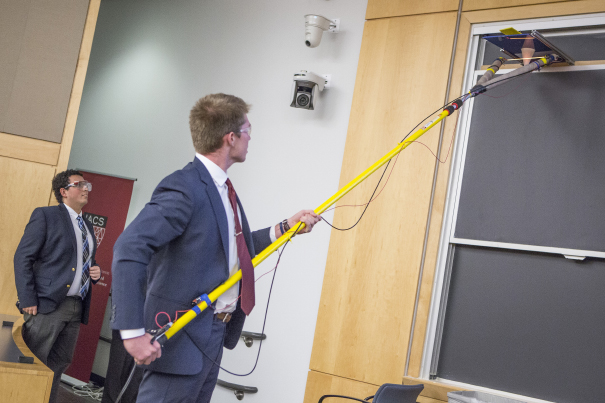 Safely handling an extremely hot wire and incorporating an adequate but compact power supply  were major design challenges, said electrical engineering concentrator Peyton Fine, S.B. '17.
"We overcome those challenges, and really all the challenges we faced, by working together effectively," he said. "Every time we hit a roadblock, we had other team members drop what they were doing and pour a lot of time and energy into moving the project forward."
Collaborating to solve problems, even in the wee hours of the night, proved to be a very gratifying experience, said biomedical engineering concentrator Cassie Lowell, S.B. '17. She and her classmates breathed a collective sigh of relief after the team successfully presented their project to FMO officials.
"I'm really proud of what our team was able to come up with," she said. "This project really taught me a lot about mechanical components and how things fit together. It was so challenging and rewarding to be able to integrate many different types of engineering into solving one single problem."
Instructor David Mooney, Robert P. Pinkas Family Professor of Bioengineering, said he was very impressed by what the students accomplished. He hopes they learned not only technical skills, but also how to follow-through on a project with careful planning, prototyping, and implementation.
"I think the concepts the students developed were really novel and exciting, and they did a great job of prototyping and doing the appropriate calculations to back them up," he said. "There was a lot of engineering in all three of these solutions."
Cutting-edge science delivered direct to your inbox.
Join the Harvard SEAS mailing list.