Two Harvard graduate students want to make curing blood cancer or HIV as easy as pressing a button.
Ph.D. candidates Nabiha Saklayen and Marinna Madrid have launched a startup to develop a simple, push-button device clinicians could use for gene therapy treatments. Their enterprise, Cellino, hopes to commercialize technology being developed in the lab of Eric Mazur, Balkanski Professor of Physics and Applied Physics at the John A. Paulson School of Engineering and Applied Sciences.
The early-stage laboratory spinoff, which the pair launched in November, claimed first prize in the International Society for Optics and Photonics (SPIE) Startup Challenge, a pitch-off contest between more than 40 startups from around the world. In addition to winning $10,000 cash and $5,000 in optics products, Saklayen and Madrid were lauded for the impressive business potential of their startup.
Their technique uses laser-activated nanostructures to deliver gene therapies directly into cells. When a laser is shined onto the nanostructures, the intense hot spots can open transient pores in nearby cells, Saklayen explained.
"These pores are open long enough for any cargo that is around in the surrounding liquid to diffuse into the cell, and then the pores seal," she said. "It is sort of like a magical opening where we can deliver molecules into the cell without damaging it, in a very targeted, quick way."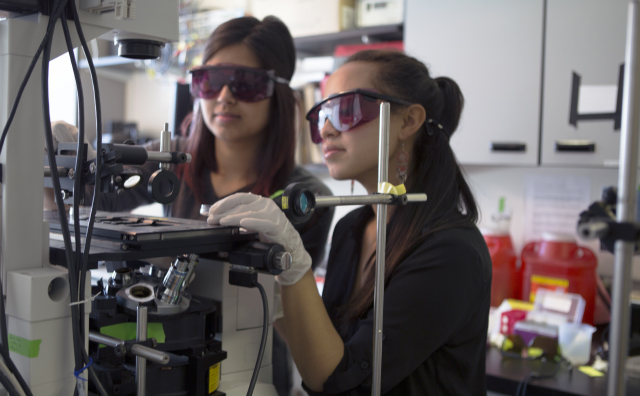 Developing effective intracellular delivery methods is a problem that has plagued biologists for decades, partly because the plasma membrane that surrounds a cell is selectively permeable and bars most molecules from entering.
"Biologists have tried a number of different methods to do this, including viruses and chemical and physical processes, but none of them have been consistent enough and safe enough to be used reliably in treatments for blood disease," said Madrid.
The reliability of the nanostructure method developed at SEAS would give it a leg up over current practices. The biggest hurdle Madrid and Saklayen face now is translating the Mazur lab's technology into a scalable, turnkey device.
Their goal is to package the technology into a shoebox-sized device that contains everything a user needs—the laser, substrates, optical components, and computer interface. A user would put a patient's cells and the nanofabricated chips into the device and use a touch screen to treat the cells, which could then be implanted into the patient.
According to the Cellino team, those cells could be used to treat a number of different blood diseases, including HIV and blood cancers. By delivering gene-editing molecules into a patient's hematopoietic stem cells, for instance, a clinician could repopulate a patient's bone marrow with HIV-resistant cells. To treat cancers that affect the blood, the technology could be used to weaponize a patient's T-cells, and then return them to the blood stream to attack the cancer. 
"What I find really exciting about this project is it is really pushing the barriers of what is the norm," Saklayen said. "People talk about curing blood cancer all the time, but we have this unique opportunity to really enable that. That is the most inspiring part—we have an opportunity to make a difference in people's lives. That is what drives me everyday to keep working hard."
As they move forward with Cellino, Saklayen and Madrid are working closely with Harvard's Office of Technology Development (OTD), which has filed patent applications to secure the lab's intellectual property and develop a viable commercialization strategy for the technology. Alan Gordon, a Director of Business Development in OTD, has been advising the team on how to develop a business plan and launch the company.
After graduating from the Ph.D. program this spring, Saklayen will pursue Cellino full time. Madrid plans to graduate early so she can soon focus solely on the company, too. The co-founders have applied to a number of startup incubators and plan to enter additional pitch competitions to gain more validation for both their technology and their business plan.
"There is definitely a production challenge when you talk about making things at a larger scale, but we are making good progress," Madrid said. "The technology is very powerful because it is so streamlined. Now it is all about packaging."
Mazur is proud of his students' accomplishments and excited for the potential of their startup. "This work is really transformative and opens the door to new therapies for currently incurable diseases," he said.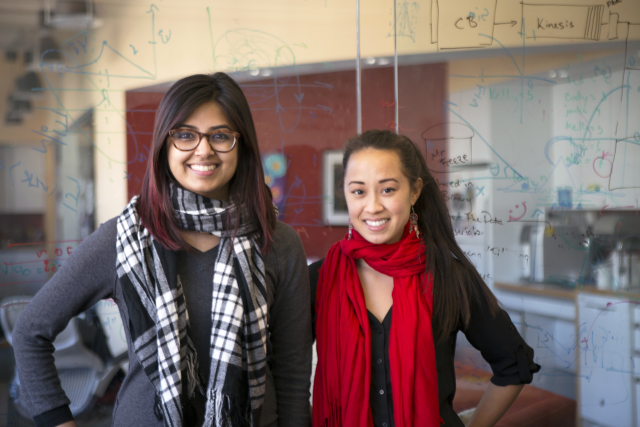 Cutting-edge science delivered direct to your inbox.
Join the Harvard SEAS mailing list.