As students design, prototype, and build remote-controlled robots in the Harvard John A. Paulson School of Engineering and Applied Sciences course Computer-Aided Machine Design (ES 51), discarded 3D-printed parts start to pile up.
Course assistant Robert Anderson, S.B. '19, a mechanical engineering concentrator, was not content to toss the scraps in the recycling bin, so he turned this plastic waste into a teachable moment for his peers.
Anderson was awarded a $4,000 Sustainability Grant from the Harvard Office for Sustainability to purchase several pieces of equipment that enable on-site recycling of 3D printing filament. The equipment, pioneered by Filabot, a Vermont startup, grinds a 3D-printed item and then extrudes recycled filament with the robustness and mechanical properties required for reuse in a 3D printer.
He learned about the company from his younger sister, who had conducted research about the material properties of the recycling process. The Filabot equipment seemed like the perfect solution to those piles of discarded plastic.
"In many hands-on SEAS courses, we go through a ton of 3D-printed material. A prototype gets held or played with for a few minutes or hours and is then discarded," he said. "I saw that there was a huge benefit to being able to recycle this material on site."
After purchasing the equipment, Anderson and staff members in the Active Learning Labs collaborated to work the bugs out of the novel recycling system. This technology is still in its infancy, Anderson explained, and it not yet very user-friendly.
Anderson applied his problem-solving skills to streamline manual system settings, such as extrusion speed and temperature, so students can recycle filament efficiently.
"I learned a lot about how to design a process, rather than an invention, and make all the pieces work together. To develop a human process rather than a robot or a piece of technology is a different type of design, and something different than the work I've done in my classes," he said.
In the future, he hopes to be awarded another grant to buy additional components that will help the system function more efficiently. He would also like to see an engineering student incorporate the technology into a senior thesis project. For example, there is great potential to develop an algorithm that could automatically optimize the settings based on the desired diameter of the recycled filament, Anderson said.
At the recent University Sustainability Fair, Anderson displayed the Filabot to highlight the importance of 3D printer filament recycling. Beyond recycling a few pounds of plastic, Anderson hopes his project has an even greater impact across campus and beyond.
"Being sustainable and environmentally friendly is of importance for everyone, but especially for engineers who are developing new structures and inventions at the cutting edge of technology," he said. "My hope is that the Harvard students who will go on from here and change the world will carry some of this knowledge with them."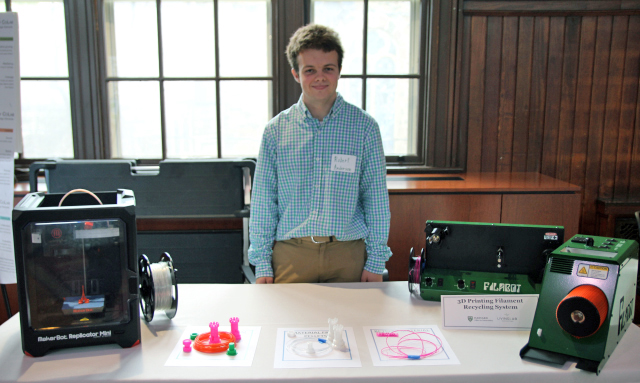 Cutting-edge science delivered direct to your inbox.
Join the Harvard SEAS mailing list.