Pooja Chandrashekar was shocked to realize she was one of only three girls in the AP computer science course at her math and science-focused high school in northern Virginia.
As she took more advanced classes, Chandrashekar was devastated to see female peers dropping computer science in droves.
"I started to think about the reason I stayed with computer science, despite feeling out of place. I realized it had a lot to do with the fact that I had prior experience with computer science in middle school," she said. "That gave me a lot of confidence and I felt like I deserved to be there."
While still a high school sophomore, Chandrashekar decided to launch a coding competition exclusively for middle school girls. ProjectCSGIRLS challenged students to develop an idea that used technology to solve a social problem.
The initial competition drew about 100 girls, each of whom brought tri-fold displays of their tech-focused ideas to a science fair at George Mason University. Buoyed by that success, Chandrashekar, now a biomedical engineering concentrator at the Harvard John A. Paulson School of Engineering and Applied Sciences, wasted no time broadening the program's reach.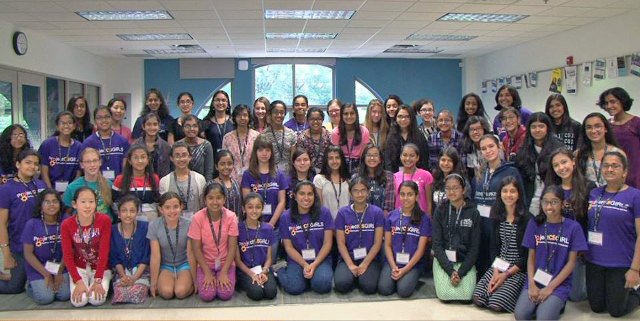 She contacted friends and colleagues across the country for help expanding to a national level. At the same time, she retooled the contest to require students to code or prototype a computer science project under one of three socially-motivated themes: intelligent technology, a safer world, or global health.
"Research has shown that girls tend to gravitate toward careers and projects where they can make a difference," she said. "So our focus with this competition is to show girls that technology can be used for social impact. That's when computer science becomes all the more real for them, and that much more interesting of a field."
Chandrashekar and her team launched workshops at schools across the nation to help girls build the fundamental skills they would need to compete. At a two-day celebration in northern Virginia, 30 finalist teams attended lectures and workshops, presented final projects, and received awards at a glitzy gala held in a hotel ballroom.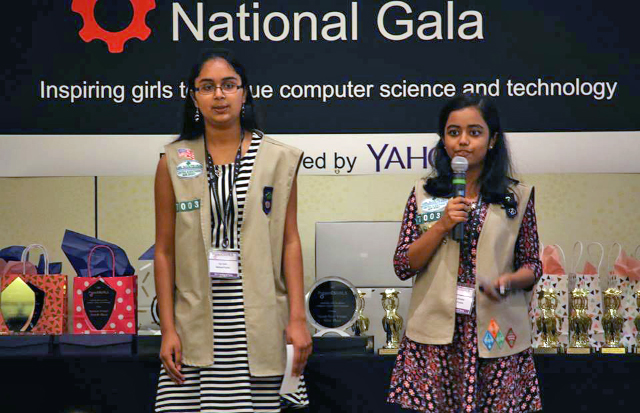 Now gearing up for its fifth iteration, the annual competition continues to draw girls of all backgrounds who tackle a wide range of topics.
One finalist developed an app for Alzheimer's patients that can identify a photo of a friend or relative using visual recognition. Another project enabled production of electricity from the kinetic energy generated by a driving car.
"The most fun part of the gala is seeing the girls bond with each other," Chandrashekar said. "Just to see that tight community form, and the impact it has on them, is incredible. They develop so much more confidence, and you can really see the change."
Now the nation's largest computer science competition for middle school girls, ProjectCSGIRLS reached more than 2,000 students in 40 states last year, in addition to thousands more through regional computer science workshops.
This year, the program launched workshops in Canada, France, Germany, India, and Sri Lanka, and Chandrashekar has her sights set on even more nations in the future. She wants ProjectCSGIRLS to inspire and encourage as many girls as possible, in an effort to make computer science a more diverse field worldwide.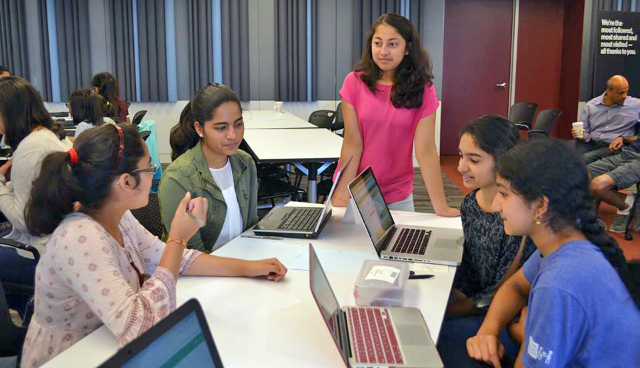 "Diversity in tech is so important because we need to have diverse perspectives at the table when we are developing products," she said. "In order for a product to cater to a population, it needs to accurately represent that population."
Chandrashekar also initiated a ProjectCSGIRLS chapters program this year, enabling students in high school or college to launch a local chapter of the organization. Local chapters can take almost any form, from an afterschool club to a hackathon to a series of panels. The chapters build off of a rapidly growing network of ProjectCSGIRLS alumni who are inspired to share their passion for computer science with younger peers, she said.
Now with chapters launching across the nation, and competitions underway around the world, Chandrashekar looks forward to seeing how her initiative will help inspire young women to become future leaders in technology.
"ProjectCSGIRLS has really shown me how one person can make a difference," she said. "If you have a vision, you can make it come to life, and age just isn't a barrier to that."
ProjectCSGIRLS, a 501(c)3 nonprofit organization, is sponsored by Yahoo, the Society for Science and the Public, Symantec, Northrop Grumman, and Kleiner Perkins Caufield Byers.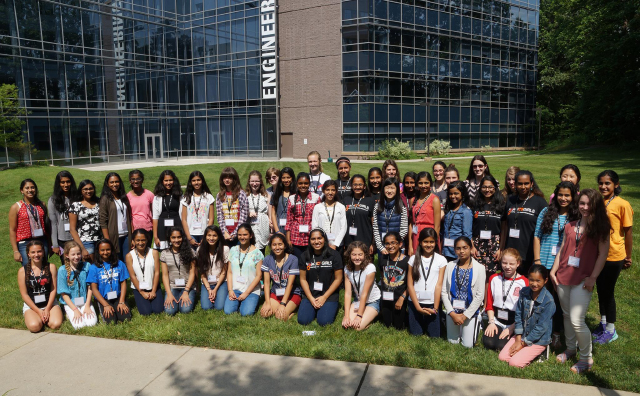 Topics: Computer Science
Cutting-edge science delivered direct to your inbox.
Join the Harvard SEAS mailing list.