The location of a child's home often decides whether he or she will survive a pediatric cancer diagnosis. Eighty percent of cancer-stricken children who live in low- and middle-income countries will die from their disease, according to the World Health Organization, while in high income countries more than 80 percent can be cured.
To address this devastating disparity, a team of students in the Harvard John A. Paulson School of Engineering and Applied Sciences (SEAS) course Engineering Problem Solving and Design (ES 96) partnered with the Dana-Farber/Boston Children's Cancer & Blood Disorders Center's Global Health Initiative (GHI) to develop tools aimed at improving care for children with cancer. GHI partners with low-resource hospitals around the world to improve pediatric care and promote research.  
Students launched their collaborative, semester-long project by gathering information from clinicians and public health experts, and collecting feedback from GHI partners in 13 low- and middle-income countries (LMICs), including Guatemala, Egypt, Iraq, Bangladesh, Nigeria, and Ghana. From this information, they designed two projects: a dictation app to help doctors create accurate patient records more efficiently, and an outpatient wearable that sounds an alarm when a child needs to seek urgent medical attention.
Both projects target a major issue that impacts pediatric cancer survival: delays in diagnosis and treatment, explained Olga Romanova, S.B. '19, a bioengineering concentrator who co-led the project along with bioengineering concentrator Marlee Sabatino, A.B. '18.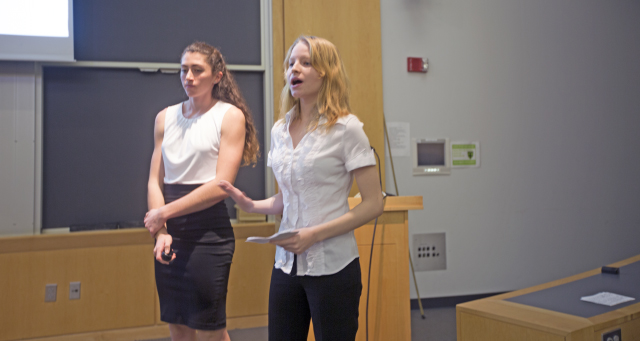 The dictation app, MedText, is intended to reduce backlogs in severely overcrowded and understaffed hospitals by freeing up time for physicians to see more patients. Using the app, a health care provider speaks patient notes directly into a mobile device. The software inputs that information into an electronic patient record, using algorithms to parse relevant health data, like temperature or weight, into the correct column of a spreadsheet. Physicians can review and, if necessary, correct the record at a later time.
"Time spent filling out patient records by hand takes away time that could be committed to caring for patients," said Sayo Eweje, S.B. '19, a bioengineering concentrator. "Physicians would be able to spend more time educating patients and families about their disease and treatments, which could likely contribute to an increase in survival rates."
For their second project, the students focused on patients outside the hospital. They created a wearable device to monitor temperature, which may be elevated due to an infection. Infections are one of the most common complications of pediatric cancer. With weakened immune systems from chemotherapy and other treatments, even relatively harmless infections can have deadly consequences for these children.
Children often don't realize they have a fever, a common sign of infection, and parents may only recognize the symptoms hours later, Romanova said. By alerting parents when a child is facing medical danger, the students hope patients can receive treatment faster.
The wristwatch-like wearable tracks surface skin temperature. The device, which automatically takes a patient's temperature every four hours, flashes green if the temperature is near normal, 37.4 degrees Celsius. If the temperature is between 37.5 and 38 degrees Celsius, an orange light blinks consistently and the wearable rechecks it every hour; if the temperature exceeds 38 degrees, a red light flashes and the device buzzes loudly.
The waterproof device is designed so a child cannot easily remove it without the help of a parent. Comprised of a polypropylene wristband for comfort and a stainless steel housing for durability, it can withstand the bumps and bruises of a child at play, said Lilian Magermans, S.B. '19, a mechanical engineering concentrator.
"The biggest challenge was making it as compact as possible, since we were dealing with a lot of different electrical components," she said. "It is a wearable, so we didn't want it to end up feeling like a mini-fridge attached to the child's arm. Optimizing space while trying to keep it all waterproof and making sure all the components worked was very tricky."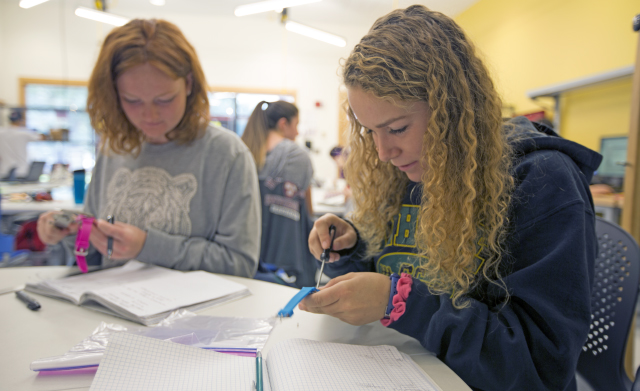 The next step in the wearable's development is to conduct pilot tests, Romanova said, while the dictation app is ready to be uploaded to the app store. Moving forward, the students would like to refine the app by adding more languages, enabling wireless data transfer, and integrating it with existing electronic patient record systems.
"The reality that a treatment option depends on a patient's zip code is critical to address," Romanova said. "It is rewarding to see how, within a really short timeframe, we went from knowing close to nothing about pediatric cancer, and as a team of 20 people, we were able to work together to create and develop these two solutions. In the end, they will hopefully have a big impact."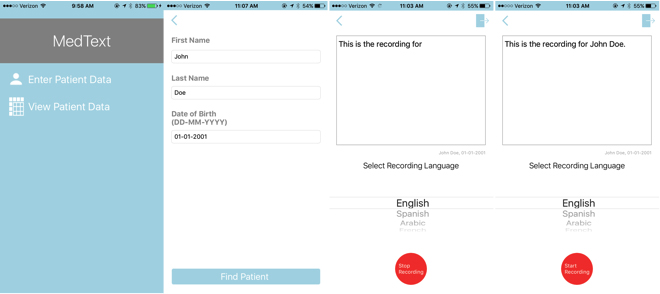 Irini Albanti, GHI director, said it was inspiring to see how the students were able to synthesize classroom theory and knowledge gained through research and interactions with GHI to thoughtfully and efficiently brainstorm ideas centered around children with cancer and their families.
"Both solutions have the potential to be implemented quickly and generate quantifiable and immediate results," she said. "Being able to come up with a solution that reflects the reality of the end user (whether a child, parent, or health care provider) and ultimately helps to improve childhood cancer outcomes in low- and middle-income countries showcases the impact we can have by working together."
Instructor David Mooney, Robert P. Pinkas Family Professor of Bioengineering, was impressed by the work the students completed during the semester. The goal of the course is not only to teach students the fundamentals of the engineering design process, but also to give them experience working with a client and addressing a real issue by developing engineering solutions.
"The students addressed a really critical problem and I think they've come up with solutions that look very exciting," Mooney said. "I hope they walked away with an appreciation for the design process and the importance of teamwork, and a desire to not just take the information that is handed to them, but to go and seek out knowledge to really create something important."
Topics: Academics, Bioengineering, Health / Medicine
Cutting-edge science delivered direct to your inbox.
Join the Harvard SEAS mailing list.