Micro drone company founder offers insight on the future of this rapidly expanding technology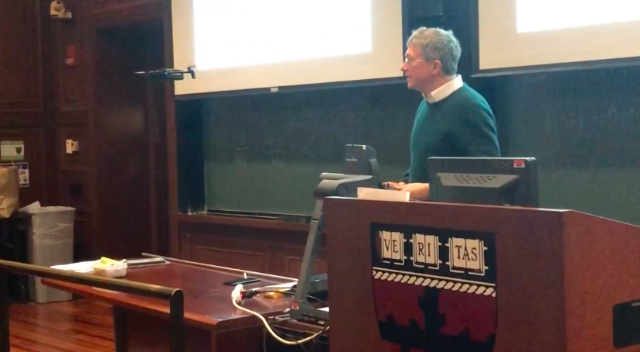 A new lecture series at the Harvard John A. Paulson School of Engineering and Applied Sciences (SEAS) highlights the promises and perils at the intersection of technology and society.
During the inaugural presentation on March 5, Henri Seydoux, founder and CEO of Parrot, a civil drone company, presented a talk on "Micro drones: From toys to a new industry." Seydoux started his career as a journalist, was a cofounder of the luxury brand Christian Louboutin, and later moved into the realms of software development and entrepreneurship with the creation of Parrot in 1994.
The talk was the first in a series of forums that will bring together SEAS faculty, graduate students, and undergraduates to meet in an intimate setting with industry leaders and learn about their latest projects, as well as their creative and business processes.
Seydoux's path to entrepreneurship began when he started designing micro drones so children could explore the concepts of flight. His company was the first to put a camera inside a drone to collect visual information from the, ground, improving maneuverability in flight.
Parrot then moved on to producing what Seydoux called "crazy toys," becoming more creative in their designs, from a rolling spider to a hydrofoil drone. In three years, the company had surpassed $200 million in sales revenue.
Seydoux emphasized that nothing lasts in technology. To find success, entrepreneurs  must constantly evolve, and for Parrot, that meant moving towards the increasing number of advanced tech companies beginning to outcompete them.
"Technology's progress in recent times has been based on seeing with our gadgets," he said. "The high tech starts with the gadgets; it's not serious. The world of today is led by young people and we are able to build huge businesses, but they are never so serious at the beginning."
Perhaps less serious, but still impressive, was Seydoux's demonstration of a prototype for a new micro drone Parrot will soon be rolling out. The design was inspired by the body and  wing structure of an insect. As the drone flew above the heads of the attendees inside the second-floor classroom in Pierce Hall, it moved and even sounded like a mosquito.
Seydoux also discussed the evolution of the drone industry from consumer to commercial products, including two of his company's main areas of focus: mapping and agriculture. Parrot's commercial drones are able to travel over mountains or cities to produce remarkably accurate 3D maps, using an optimization algorithm that connects landmarks from the thousands of photos the drones take during flights. New Parrot drones are also able to track the health of vegetation through color-sensitive cameras that can illustrate forest health by determining biomass.
Topics: Events, Technology
Cutting-edge science delivered direct to your inbox.
Join the Harvard SEAS mailing list.