A class project developed by a team of students at the Harvard John A. Paulson School of Engineering and Applied Sciences could help save the lives of thousands of children in some of the world's most resource-constrained countries.
In fall, 2017, students in Engineering Problem Solving and Design (ES 96) worked with the Dana-Farber/Boston Children's Cancer & Blood Disorders Center's Global Health Initiative (GHI) to develop tools aimed at improving care for children with cancer in low- and middle-income countries. Students in the course, taught by Dave Mooney, Robert P. Pinkas Family Professor of Bioengineering, developed an outpatient wearable device that sounds an alarm when a pediatric cancer patient needs to seek urgent medical attention.
After the class ended, the students and GHI were eager to continue advancing their work, said project technical lead and electrical engineering concentrator Emily Dahl, S.B. '19. But they required funding to further develop the wearable, so they entered the Astellas Oncology C3 Prize competition, a global challenge designed to inspire innovative non-treatment ideas. The Harvard team was crowned winners of the Support Tools Category, earning $25,000 and the chance to present their idea to a panel of judges at the 2018 World Cancer Congress in Malaysia.
"It was so amazing to be able to talk to people from around the world—pediatric oncologists, nurses, social workers, entrepreneurs, and innovators—just to get their feedback on our prototype," Dahl said. "It was inspiring and humbling to see where we are and how far we have to go. It empowered us to continue working even harder."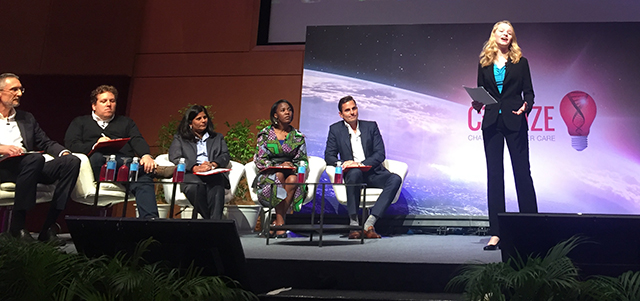 Dahl and project co-lead Olga Romanova, S.B. '19, a bioengineering concentrator, are now drawing on that encouragement and the $25,000 in prize money to lead the next stage of development. They have taken on different components of the wearable for their senior capstone projects.
The current prototype of their wristwatch-like device monitors a child's skin temperature, lighting up and buzzing when it exceeds 38 degrees Celsius. Tracking temperature is critical, since a fever can signal an infection, one of the most common and deadliest complications of pediatric cancer.
Though treating an infection often only requires a simple round of antibiotics, identifying that infection can be much trickier, especially if a child receives care from different adults throughout the day. Since children in low-resource countries are more likely to live farther from health care centers, lags in identifying an infection can lead to deadly delays in treatment.
"Every minute that you don't identify that a kid is starting to get an infection and needs to go to care, that is cutting down on their chances for survival," Dahl said. "If you already live far from a health care center, that could be the difference between getting antibiotics in one day versus three or four. Everything just snowballs from there."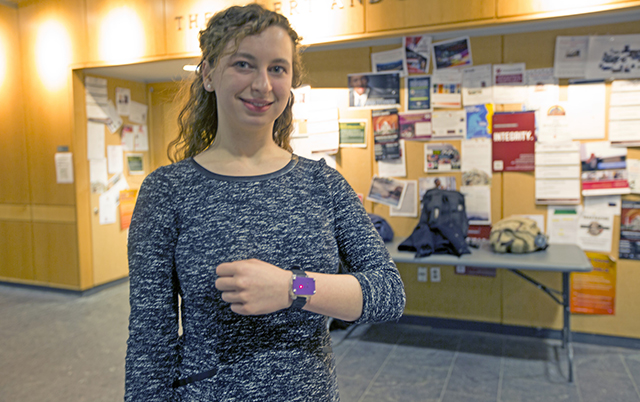 Dahl and Romanova will spend the rest of this year enhancing their proof-of-concept prototype. They also continue to work with the GHI with the goal of testing the device in clinical trials.
"When you are developing a device, you sometimes get so caught up in what you are doing, you forget that there are so many other things you can consider," Romanova said. "Our work now involves retrenching, keeping the concept, but really stepping back and starting from square zero."
Dahl will focus on hardware, determining the ideal components to ensure the device will be durable, safe, and low-cost. She will also study how to effectively waterproof the electronic components and improve the device's thermal isolation so its battery doesn't impact temperature readings.
Romanova will work on the algorithm that correlates skin temperature to core body temperature. With so many different factors involved, such as air temperature, humidity, age, and gender, accurately determining whether a person is suffering from a fever based on a skin temperature reading is complicated. Romanova hopes to improve the model's accuracy so it is as reliable as an oral thermometer.
The biggest challenge she anticipates is finding a way to individualize the device, perhaps through some sort of calibration, since everyone's thermoregulation is unique.
As Romanova and Dahl buckle down for a year of hard work, they are building on the lessons they've learned in class, from their mentors at GHI and GHI partners, and from leaders at the World Cancer Congress.
"I've learned that there is so much value in simplicity," Romanova said. "So often, we think that the more features we can add to something, the more impressive and useful it will be. But for us, something that is really simple—that can be literally understood by anybody—and that works, that's all we need."
Their goal is to have a device ready for pilot studies within the next 18 months.
"What really excites me about this project is how many potential uses there are," Dahl said. "Just seeing that something that we are working on at school could honestly make a difference on a global scale is an amazing thing and really gives us hope."
Topics: Academics, Health / Medicine
Cutting-edge science delivered direct to your inbox.
Join the Harvard SEAS mailing list.