This engineer has designs on making all sorts of products better
Alumna Katja Lierhaus likes surprises.
That's good because, as a mechanical engineer at Essential Design, she never knows what project she'll be working on next.
Lierhaus, S.B. '16, works on product development, collaborating with a team of industrial designers, researchers, and user experience specialists to translate conceptual plans and prototypes into products that can be manufactured efficiently.
She's worked on everything from security cameras for ride-sharing vehicles to accessories for machines for people suffering from sleep apnea.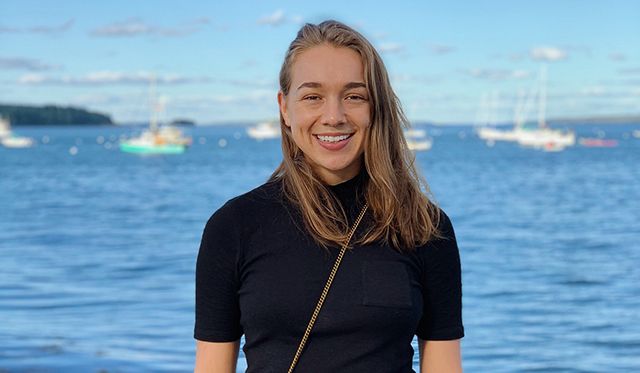 "We get products and ask ourselves, how is it made? How can we make this product even better than the last version? How can we make it meet a user need?" she said. "It is a lot of discovery and trying new things, which I really like. I am always learning here, which is great."
A burning curiosity has driven Lierhaus (and occasionally gotten her into trouble) since her childhood in central Massachusetts. She was drawn to science and math and enjoyed gaining a deeper understanding of how the world works.
Those interests converged at Harvard, where she found just the right fit at the John A. Paulson School of Engineering and Applied Sciences.
"It was the perfect balance of math, science, and art—engineering melds those worlds beautifully. Creative problem solving is one of my biggest passions," she said. "I was more into hands-on math and science and actually creating something that could be used or experienced. I wasn't jazzed about spending my life in a lab."
Nevertheless, Lierhaus explored the world of scientific research during an internship at the Harvard-Smithsonian Center for Astrophysics, where she worked on experiments to replicate hypothetical molecules that researchers believed they would find in space.
She enjoyed the mysterious nature of the research, but was more interested in applying her skills terrestrially.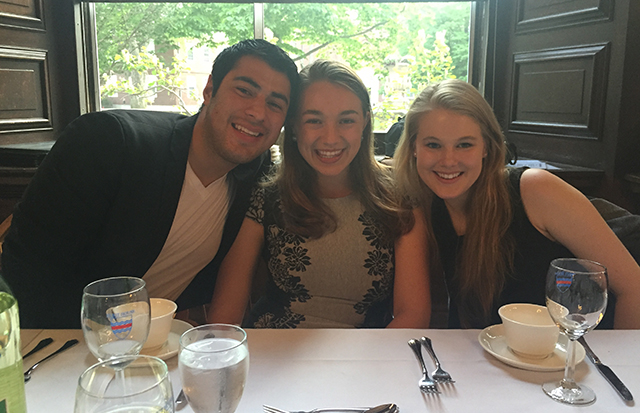 While participating in Harvard's Sustainable Cities: Collaborative Field Course in Brazil, she saw how her engineering expertise could be put to use in the real world. During the immersive course, she and a group of U.S. and Brazilian engineering students explored the reservoir that serves Sao Paulo, a city of more than 21 million people.
Lierhaus recalls being shocked by how low the reservoir was as she stood on its edge. An instructor told the group there was only enough water to serve the city for seven more months.
"That was a wake-up call. You hear about huge, environmental issues like that on the news or learn about it in classes, but seeing it first hand was really important to me," she said. "That instilled in me a passion to use my engineering skills to solve problems."
Through her engineering classes, Lierhaus developed a strong interest in materials. Seeking to apply those skills to consumer products, she began working at Nike after graduation. As a product engineer, she explored how the latest materials could be used in new footwear.
She used her engineering expertise to serve as a bridge between design and manufacturing teams, translating information from sketches into something engineers could use to create prototypes and, eventually, finished products.
Lierhaus also had the opportunity to tour shoe factories in China, Vietnam, Taiwan, and Korea, where she learned about plastic injection and saw firsthand how mass production works.
"I now have such a better understanding of how much time, energy, and thought goes into a product, whether it is a car or a toothbrush," she said.
Building off that experience, Lierhaus joined Essential Design last year so she could apply her problem-solving skills to a wider range of consumer products.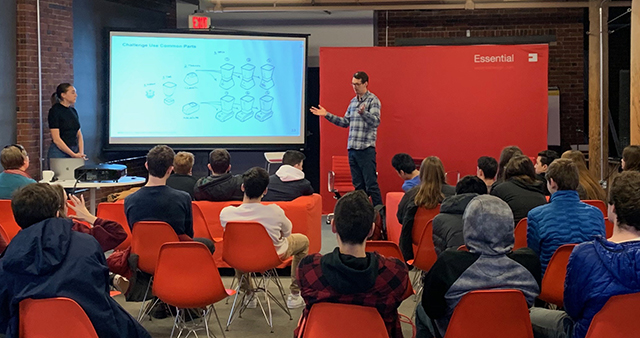 She enjoys the variety of the work—in an average day, she could be in a brainstorming session about a new medical device, then back at her desk working on a design in Solidworks, and then hammering out a different prototype on a 3D printer.
For Lierhaus, the biggest challenges come from working with clients, who have very different needs and expertise.
"Since I'm working in so many different industries, I'm constantly working with people who have far different experiences and work styles," she said. "Trying to find the right match with the client and work well with them is the biggest challenge."
The number of new things she gets to learn each day makes the job fun and rewarding, she said. The variety of projects, and steady stream of design and fabrication challenges, force her to stretch and broaden the way she thinks.
Thinking back to her days as an impetuously curious child, Lierhaus feels like she's found a good fit for her passions. She's looking forward to unleashing her creativity as she delves into an array of innovative projects.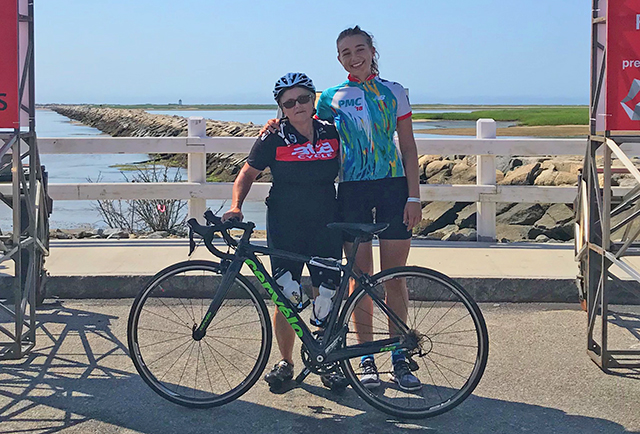 Do you have an interesting story you'd like to share with your fellow alumni? We'd love to hear from you! Contact the SEAS Office of Communications.