During the eighth annual Design and Project Fair at the Harvard John A. Paulson School of Engineering and Applied Sciences, student engineers shared the culmination of a year's worth of creativity, collaboration, and commitment. Students, spectators, and even swiveling robots roamed the fair, enjoying a showcase of their peers' innovations.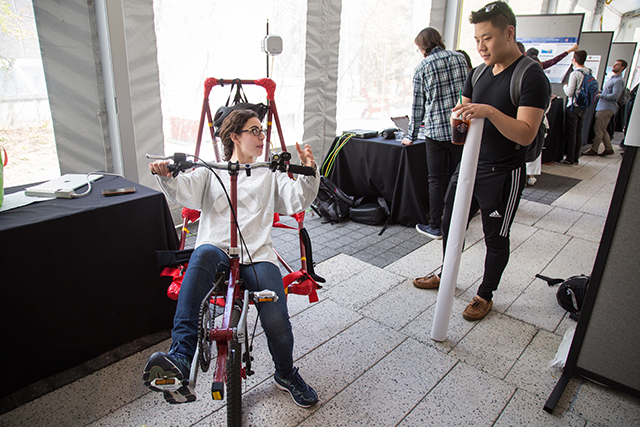 The Harvard College Human Powered Vehicle Team (HPVT) shared the recumbent bicycle they built to compete in the American Society of Mechanical Engineers Human Powered Vehicle Challenge (ASME HPVC). To prepare for their first year in competition, HPVT spent the fall semester designing and the spring semester building their vehicle, which they named the Crimson Cruiser, as a nod to the Harvard shuttle. The team designed their vehicle with the ultimate goal of creating a sturdy, fast, and reliable replacement for cars in cities. A good sign of their progress, a team member successfully rode the recumbent bicycle from Pierce Hall to the Science Center Plaza for the Design and Project Fair.
"There was no manual for building it. We had to build every part from scratch and fit them together like a 3D jigsaw, said Alex Giglio, S.B. '20, a mechanical engineering concentrator. "It was a good experience in creativity and problem-solving."
Pointing out the frame of the vehicle in particular, Andrea Rodriguez-Marin Freudman, S.B. '20, a mechanical engineering concentrator, said, "We laser-cut the jig, which was very innovative, and we designed adjustable pedals and changed the tensor."
She added that the experience taught them how to approach a variety of challenges, such as how to juggle a two-semester project and how to manage a team. She highly encourages other students to join their community to gain design experience.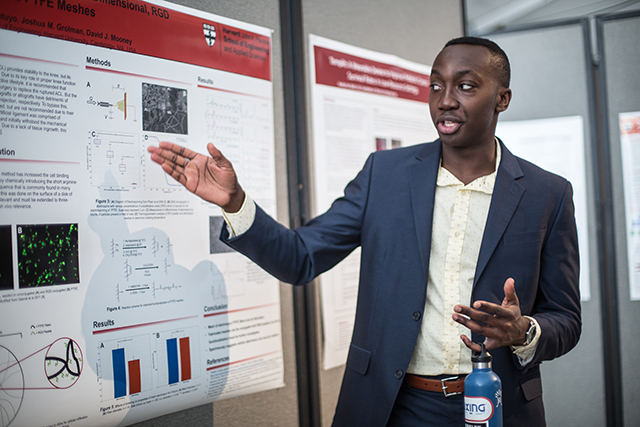 Kasoorelope Oguntuyo, S.B. '19, a bioengineering concentrator, shared his thesis work, in which he designed synthetic meshes to treat anterior cruciate ligament (ACL) tears. Current treatments involve autografts or allografts, which have the disadvantages of donor site morbidity or host-graft rejection. Synthetic materials, such as poly(tetrafluoroethylene) (PTFE), are attractive alternatives, as they can withstand mechanical loading. However, synthetic materials lack tissue ingrowth over the long-term. This motivated Oguntuyo's research on improving cellular invasion into synthetic meshes by chemically introducing peptide sequences for the cells to attach, a process called RGD functionalization.
Oguntuyo designed a mesh of nanofibers for the cells to invade, using electrospinning. He designed a protocol to add various concentrations of poly(ethlene oxide) (PEO), which is necessary for electrospinning of PTFE. After electrospinning the meshes, he conducted a thermogravimetric analysis to determine the optimal temperature for removing the PEO through sintering, a controlled heating process. He added RGD to the synthesized meshes and used spectroscopy to validate the presence of the chemical elements in his meshes. Oguntuyo seeded these meshes with mesenchymal stem cells. In imaging, he saw protein deposition on the meshes, which suggested the presence of cells. His next step is to conduct further validation of the presence of cells on the meshes.
Oguntuyo drew on his studies in physics, chemistry, and biology to navigate the scope of his research project. He particularly enjoyed the electrospinning component of his research.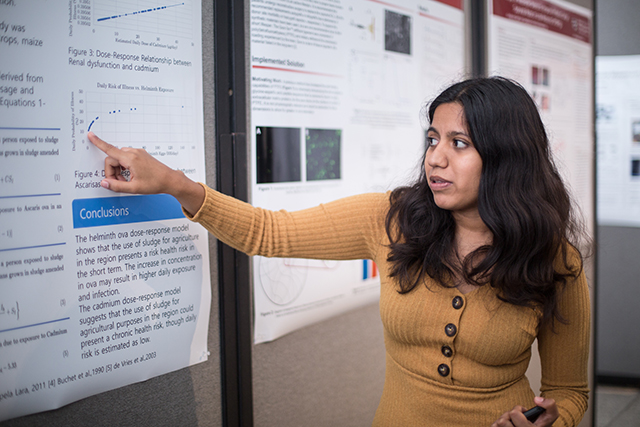 Leticia Ortega, S.B. '19, an environmental science and engineering concentrator, showcased the culmination of her thesis research on modeling the public health impact of using agricultural sludge in Mexico City.
Comisión Nacional del Agua (CONAGUA) is planning to open a wastewater treatment facility near Mexico City. The local government is considering whether to repurpose the nutrient-dense sludge byproducts from the facility for farming. The two major contaminants of concern when using sludge in agriculture are helminth ova, an infectious pathogen, and cadmium metal. Ortega created a model to assess the health risks posed by these two potential contaminants.
She found that there was a significant health risk posed by the helminth ova. Her model shows that, on a daily basis, there is up to a 40 pecent chance that someone will become sick due to infection. She found that cadmium presents a potential chronic health risk, but a low daily risk. Based on her helminth ova dose-response model, she recommends against agricultural sludge application in Mexico City. Ortega intends to publish her research this summer and send it to the Mexican government for policy considerations. Additionally, she hopes that her research can encourage the fine-tuning of further data collection in the future.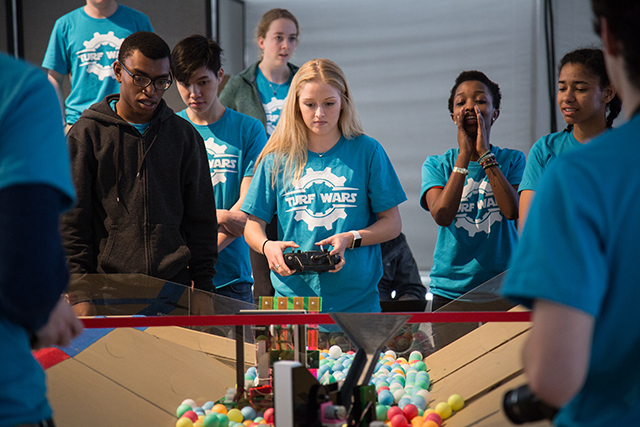 The students of Computer-Aided Machine Design (ES 51) participated in Turf Wars, where each team's robot competed to get the greatest number of balls over a wall. Different teams embraced different designs. There were robots that scooped up the balls to launch them over the wall, forklifted the balls up against the wall, and gathered the balls to dump them over in bulk.
Fresh from winning a round with her team, mechanical engineering concentrator Daniella Ineza, S.B. '22, said, "We managed to double our score from our original seeding!"
Working with his teammates to fix a spring that broke in the arena due to too much torque, mechanical engineering concentrator Jack Goodwill, S.B. '22, explained that his team focused on a launcher design. He attributed their team's rapid improvement to fine-tuning their operation strategy.
Seeing the fruits of their hard work, mechanical engineering concentrator Randy St. Louis, S.B. '22, said, "It was worth the time commitment."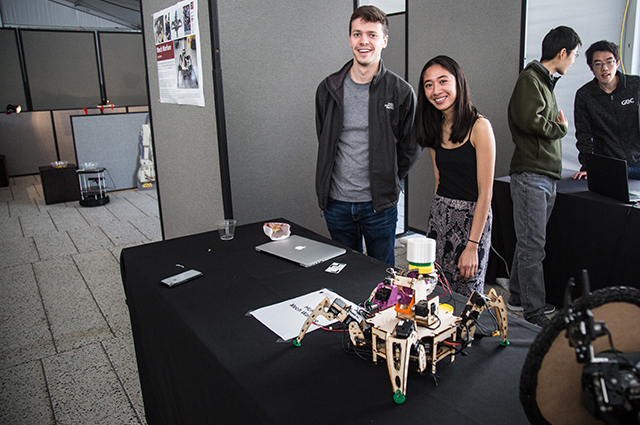 The Harvard Undergraduate Robotics Club (HURC) displayed many of their yearlong projects, including their robot for Mech Warfare, a competition where robots with BB guns roam a cityscape, shooting at designated hit points on the other competitors' robots. Through this project, the team learned how to design a walking algorithm, radio transmitter, and radio receiver.
Electrical engineering concentrator Katrina Gonzalez, S.B. '21, said her team learned that mechanical design is extremely iterative, from the initial stages of planning in SolidWorks, a design software, to building the robot. "Getting to work with the team was really fun," she said.
"We learned to work with mechanical systems. On top of that, we also learned to work as a team, an equally important skill for engineering," said Baptiste Lemaire, a materials science and mechanical engineering Ph.D. candidate.
Topics: Events
Cutting-edge science delivered direct to your inbox.
Join the Harvard SEAS mailing list.