Student Profile
Grad student profile: Rachel Moon, S.M. '20
Giving dogs a new leash on life with data science
As a child growing up in Seoul, South Korea, Rachel Moon had a veritable menagerie of pets—beetles, hamsters, bullfrogs, hedgehogs, dogs, cats, and even a friendly fruit bat.
It should come as no surprise that this animal-lover, now pursuing a master's degree in data science through the Institute for Applied Computational Science at the Harvard John A. Paulson School of Engineering and Applied Sciences, is spending her summer surrounded by dogs.
As an intern at Austin Pets Alive!, a leading no-kill animal shelter in Austin, Texas, Moon is developing a matchmaking web application to help prospective pet adopters find their ideal canine companion. Users enter information about their home environment, such as whether they currently have any pets, and the app filters out animals they can't take due to those restrictions.
"It is kind of like Tinder for dogs," she explained. "Users can look at cards showcasing dogs with different features and attributes, and swipe left or right. The app initially recommends dogs predicted to be popular, and then uses that swipe behavior to make personalized recommendations."
The project builds on work done by Moon and several teammates in the Data Science Capstone Research Project Course (APCOMP 297R), taught by Pavlos Protopapas, IACS Scientific Program Director, and David Sondak, Lecturer on Computational Science. The course challenges students to complete a collaborative data science project for a real-world client. Moon jumped at the opportunity to continue working on the project over the summer.
To help offset the costs of her internship in Austin, Moon was awarded a 2019 Public Service Data Science Graduate Fellowship, which is offered to data science students who want to explore career paths at not-for-profit and public sector organizations.
Working at an animal-focused nonprofit has proven to be the perfect way for Moon to apply her data science skills in an area she is passionate about.
As a Harvard undergrad concentrating in organismic and evolutionary biology, her initial desire was to study animals in the field, not from behind a computer.
One of Moon's favorite undergraduate courses was Primate Social Behavior (HEB 1330), where she visited the Franklin Park Zoo once a week to observe gorillas for a whole day. Moon studied the social behavior of female gorillas, and working with her advisor, determined that females would stay closer together in a specific zone when younger male gorillas were present, compared to the days when an older dominant male gorilla was in the exhibit instead.
For her senior thesis, she studied the dorsal pattern variations of female brown anole lizards in Gainesville, Fla. Moon's field research led her to conclude that different dorsal patterns did not provide improved camouflage, but some females may avoid excessive harassing attempts from persistent potential mates if they have dorsal patterns that mimick those of males.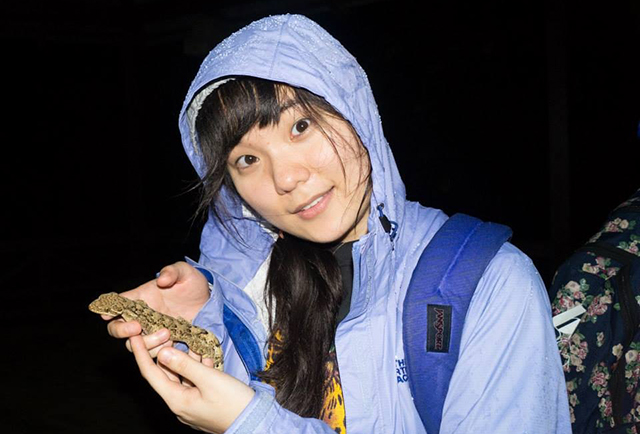 "I really enjoyed observing animals in nature, admiring their beauty and how they think and behave," she said. "It was calming in a way. But fieldwork also has challenges. It can be physically intense, and often requires going out into the forest every day for two or three months, no matter how much rain or how many mosquitoes there are."
She continued fieldwork after graduation. While studying the social relationships of vampire bats in the Panamanian rainforest as an Alex G. Booth Fellow, Moon became fascinated by how the oft-misunderstood creatures formed friendships and helped each other when food was scarce, even with nonkins.
To further pursue her interest in bats, she joined a genetics lab at Harvard Medical School as a research assistant, working on a project exploring the animals' craniofacial development. Moon and her colleagues studied the variations in face and snout length among neotropical bat species in an effort to determine the genes responsible for that diversity.
As she delved into the research, Moon also found herself diving deeper into data.
"When I started doing more diverse research projects, I realized that I needed to be able to analyze data well and make data visualizations. I'm also really interested in collective behavior of animals, like how birds change direction together during flight, and there is a lot of mathematical research going on in these areas," she said. "I really wanted to learn how to do statistical analysis to support my research and gain more practical technical skills."
She enrolled in the data science master's program, but switching disciplines was no easy task. Moon took several intense programming courses to get up to speed. Working with classmates on the Austin Pets Alive! project helped her build confidence in her skills, while giving her practical experience applying foundational techniques.
"The biggest lesson I've learned is that, in reality, what's more important is deploying models in production than building and training them. Sometimes the most complex model you build might not be the best for production," she said. "I found that it is better to deploy a simpler model first and make gradual improvements to it based on how well it performs in real-world settings."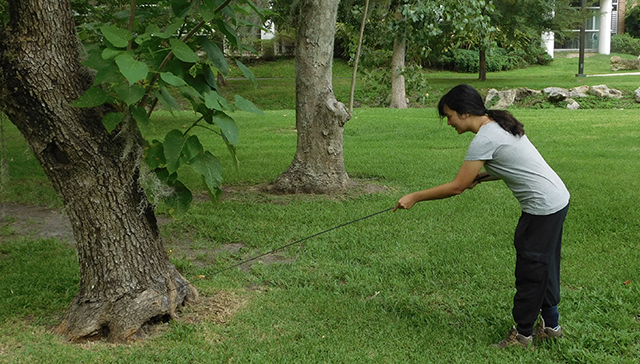 She is spending the summer refining the app, based on feedback from users, while also building other data science tools to help the shelter assess their customer base and measure how well they are reaching potential adopters.
Applying her skills to create something useful for the shelter's employees and customers has been rewarding for Moon.
"This is the perfect internship for me," she said. "I am working with dogs and helping them get adopted, which reduces euthanasia rates. That motivation makes this really fun and meaningful. The people who work here are really passionate about their mission and want to save as many animals as they can, and it is fun to be a part of that. Plus, I get to walk the dogs after work."