Data science is transforming many industries, from health care to banking to heavy manufacturing, and women are leading the charge.
That was the crux of the Cambridge Women in Data Science Conference, held March 5 as part of a global event launched by Stanford University in 2015 to educate, inspire, and connect women in tech. The local conference, now in its second year, was hosted by the Institute of Applied Computational Science (IACS) at the Harvard John A. Paulson School of Engineering and Applied Sciences; the MIT Institute for Data, Systems, and Society; and Microsoft.
Distinguished speakers from academia and industry presented technical talks to more than 240 female technologists, researchers, and students, highlighting research in such areas as deep learning applications in oncology, data science tools for pollution monitoring, and the challenges of preventing bias in algorithms.
In addition, local winners of an international datathon/kaggle challenge, held in conjunction with Stanford's global conference were announced, and students presented posters and took advantage of networking and recruiting opportunities.
A major difficulty in ensuring fairness in algorithms is  that researchers don't really know what fairness is, said speaker Cynthia Dwork, Gordon McKay Professor of Computer Science at SEAS.
Dwork explained how she designs algorithms that can prevent unfair practices like "redlining." For instance, it is illegal for a lender to discriminate based on race, but not by zip code, even though certain zip codes often contain many residents of the same race. As a result, a lender's seemingly "fair" algorithm could use zip code data to skirt the law.
"These aren't necessarily things you can answer with the math. You have to keep the context in mind," Dwork said.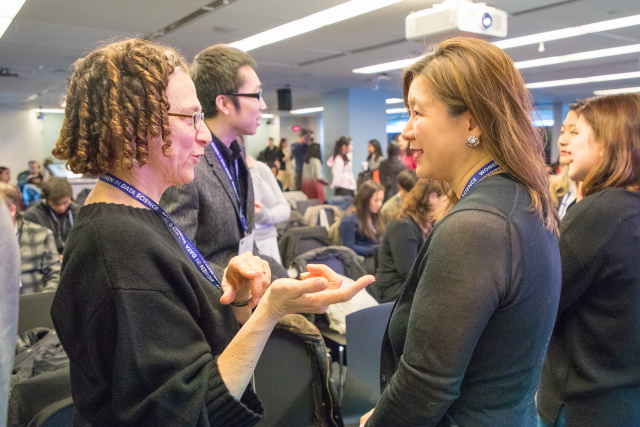 Moving beyond math and into the realm of public policy is the aim of Francesca Dominici, Professor of Biostatistics at the Chan School of Public Health and Co-Director of the Harvard Data Science Initiative. She is developing data science tools to monitor whether ambient amounts of air pollution are safe for human health.
Dominici showed footage of U.S. Sen. Corey Booker (D-N.J.) referencing her group's research during a Senate hearing with Kathleen White, the White House's nominee to head the Council on Environmental Quality. Booker used Dominici's research to question White's views on climate change, and White's name was later withdrawn for the post.
"Regardless of what the question is, I believe that rigorous data and rigorous methodology, even if it is going to be under attack, creates an enormous amount of power and responsibility," she said. "If you want to change the world, people are going to go after you. And that is the price you have to pay for open science."
During a panel moderated by IACS Postdoctoral Researcher WeiWei Pan, speakers discussed other challenges they faced while building careers in academia or industry, from the burdens of autonomy in research, to feeling excluded by predominantly male colleagues, to the pressure of the academic job market.
The stress of traveling to an unfamiliar university for packed days of tense hiring meetings nearly convinced Sherri Rose, Associate Professor of Health Care Policy at Harvard Medical School, to pursue another career.
"A lot of times, you might not be meeting with any women. It is already a stressful situation, but it may not be catered toward you," she said. "You may feel even more uncomfortable because of that dynamic."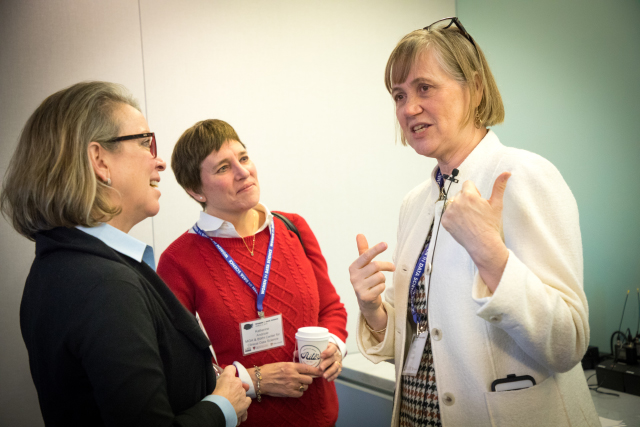 Rose and the other panelists agreed that to increase diversity in the data science field, it is important to understand challenges, like the high likelihood of relocating for an academic position, as well as the opportunities, such as the availability of training within many large companies, and financial aid for talented students.
The WiDS Conference showcased how female technologists are leading the way in many areas of the booming data science field. Still, only 25 percent of computing positions held by women, according to the National Center for Women and Information Technology.
"One of the things that makes this conference so powerful for attendees is that they can see some terrific women pursuing careers in research related to data science—at universities, hospitals, and in companies. It's really inspiring," said Catherine Chute, Assistant Dean for Professional Programs and IACS Executive Director. "And it works both ways. Several of the speakers mentioned being surprised and awed that they were speaking to a majority-female audience."
Topics: Computer Science, Diversity / Inclusion, Events
Cutting-edge science delivered direct to your inbox.
Join the Harvard SEAS mailing list.