A new, student-led initiative is focused on building different types of bridges than the suspension or cantilever spans one commonly associates with engineers.
The BRIDGE initiative at the Harvard John A. Paulson School of Engineering and Applied Sciences (SEAS) is all about building relationships, increasing diversity, and growing engineers.
On April 2, BRIDGE Week kicked off with a banquet celebrating excellence in engineering and honoring astronaut and mechanical engineering alumna Stephanie Wilson, S.B. '88. The program was part of a week of events dedicated to diversity in engineering. Other sessions included a panel discussion on the intersection of STEM and social justice, and a talk on diversifying STEM graduate education.
In introducing Wilson, Dean Frank Doyle, John A. and Elizabeth S. Armstrong Professor of Engineering and Applied Sciences elaborated on the school's desire for a "richer, more diverse student body." He also congratulated the new student groups that collaborated with Alexis Stokes, Diversity and Inclusion Engagement Launch Senior Manager at SEAS, to organize the BRIDGE banquet, including the Society of Women Engineers (SWE), National Society of Black Engineers (NSBE), and Society of Hispanic Professional Engineers (SHPE). .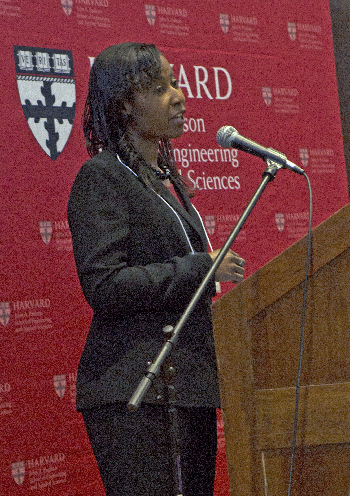 Wilson graduated from Harvard in 1988, one of 12 students then pursuing an S.B. engineering degree. She went on to work as a loads and dynamics engineer at is the aerospace company now known as Lockheed Martin, followed by graduate studies in finite element modeling on a NASA fellowship at the University of Texas, and a stint at the Jet Propulsion Lab. Wilson was accepted into the NASA astronaut program and since 2006 has logged 42 days in space over three separate flights aboard Space Shuttle Discovery. She currently supports the International Space Station Program as a member of the mission support crew branch.
Wilson spoke fondly of her time at SEAS and her favorite courses, Ordinary and Partial Differential Equations (AM 105) and Engineering Problem Solving and Design Project (ES 96), which challenges students to work in teams to design solutions to real world problems.
"Engineering is very collaborative. At Harvard I learned how to be part of a team," she said.
Wilson also offered the audience of young scientists and engineers some advice, outlining three steps to success: "Choose something that captures your heart, work hard towards that goal, and find a supportive network. But take care to find people who will not always tell you 'yes.'"
After being denied from the astronaut program, Wilson said she waited until the last day to submit her application a second time. When she called friends to go to the movies that night instead of submitting her package, every one of them hung up on her.
"Choose people who help you stay your course," she said.
Wilson concluded by sharing with the audience a perspective that few get to experience: view from space, with the "vivid colors of Earth, the auroras at night."
"In this global world, we must do our part to conserve it for future generations," she said.
Cathy Wang, S.B. '20, a bioengineering concentrator, was grateful to hear the experiences of a female Harvard engineer, and noted how much the program has blossomed since.
"What she's done helps put into perspective for me what I can do in the future," said Wang.
Eden Tanner, a SEAS postdoctoral fellow, commented on the unique opportunity to connect with students across levels.
"I got to meet some freshmen female engineers who are interested in my work, so I plan on bringing them to my lab," Tanner said.
Sayo Eweje, S.B. '19, a bioengineering concentrator, and Allison Tsay, S.B. '19, an electrical engineering concentrator, presented Wilson with the inaugural SEAS Distinguished Engineer Award.
Tsay offered closing remarks in support of the BRIDGE initiative.
"We were inspired by the idea of a bridge," Tsay explained. "An incredible feat of engineering, and something that connects people across countries and cultures…We hope to inspire you to be a bridge builder, too."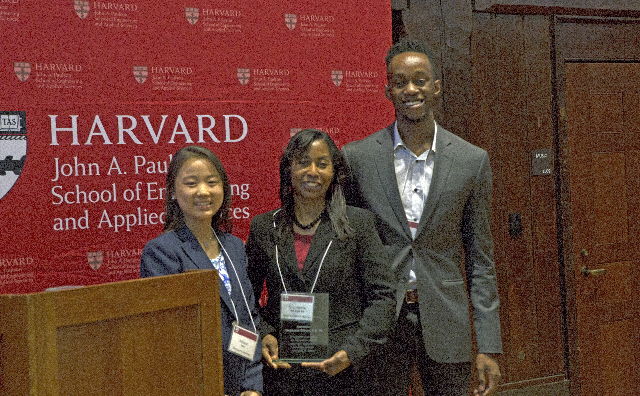 Cutting-edge science delivered direct to your inbox.
Join the Harvard SEAS mailing list.