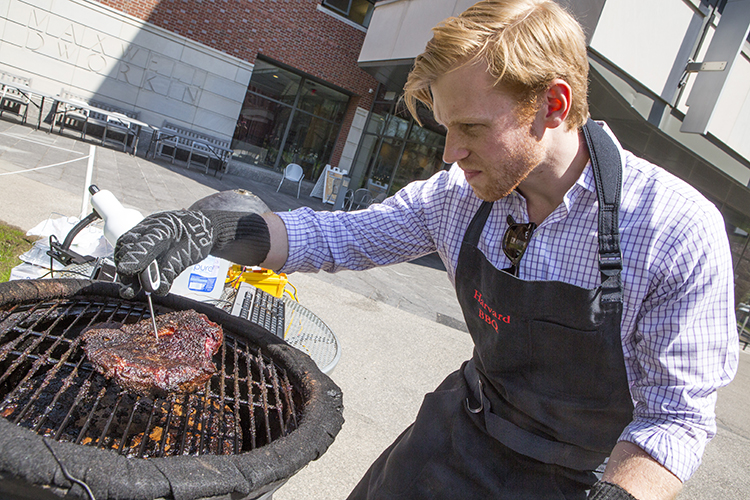 Students in ES96 (Engineering Problem Solving and Design) are asked to tackle a specific design problem for a real client. In Prof. Kit Parker's ES96 class this semester, the client was high-end cooking supplies retailer Williams-Sonoma, and the challenge was to create an easy-to-use, software-enabled, "smart" smoker that could be marketed for under $1,000 and would out-perform the industry-leading product (a kamado-style ceramic charcoal barbecue cooker called the Big Green Egg).
After consulting chefs and experts in ceramics, heat transfer, and food chemistry, and test-smoking more than 200 pounds of brisket during 13-hour cooking experiments—typically starting at 3 a.m. and conducted during Boston's snowiest winter on record—the students developed a novel prototype. Their smoker addresses the biggest weaknesses identified in the comparison product: non-uniform heating.
The Harvard Smoker uses a hyperboloid (hourglass) shape inspired by the design of power plant cooling towers. The design increases the structural stability while producing a cyclonic airflow around the cooking surface, consistently bathing the meat in the flavor-imparting smoke. Meat is cooked at a lower and more consistent temperature. The students' design also features a side-access refueling chute that can be used during the cooking cycle without disturbing the smoking process and a water pan for added humidity. A temperature- and weight-sensitive cooking surface and fuel gauge notify the user, through a smart-phone interface, of the status of their meal.
After the students' final presentation, members of the Harvard community, representatives from Williams-Sonoma, and guest lecturing chefs were treated to a brisket lunch and taste test behind Maxwell Dworkin.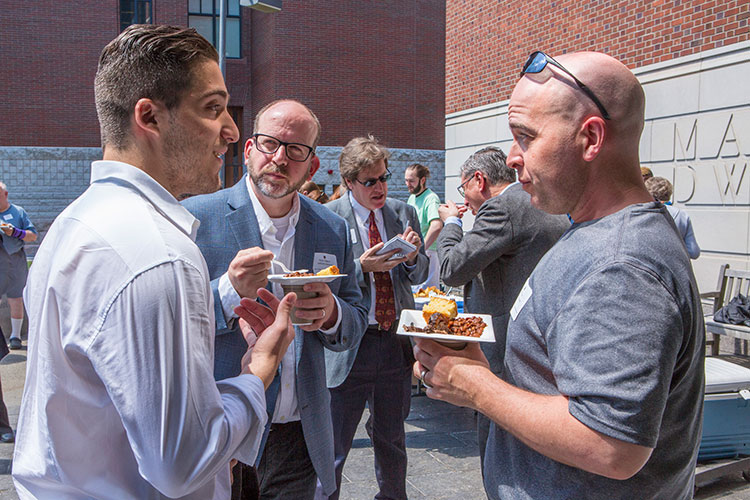 Topics: Academics
Cutting-edge science delivered direct to your inbox.
Join the Harvard SEAS mailing list.