One in five women will be sexually assaulted in college. Understanding the multi-dimensional nature of that jarring statistic requires a closer look at the meaning behind the numbers.
Four Harvard John A. Paulson School of Engineering and Applied Sciences (SEAS) students sought to do just that with a project they developed for Visualization (CS 171), taught by Hanspeter Pfister, An Wang Professor of Computer Science. The website they created, "Through the Eyes of a Survivor," combines statistics, data visualizations, and narratives to help individuals better understand the epidemic of sexual assault on American college campuses.
Neel Mehta, A.B. '18, a computer science concentrator, saw the need for this resource during a visit with friends at Yale University. His peers were surprised to learn about sexual assault prevention initiatives Mehta and colleagues on Harvard's Undergraduate Council had established, such as mandating sexual assault prevention training for board members of student organizations.
"The people I was talking with didn't think this could possibly be a problem," he said. "They thought that sexual assault only happens at state schools out in the middle of nowhere. They didn't think it could happen at Yale or Harvard or any of these top schools."
According to the American Association of University Women, 26 percent of female undergraduates at Harvard have been victims of sexual assault. That is similar to the rates reported at other Ivy League schools, including Yale (28 percent), Dartmouth (28 percent), Penn (27 percent), Brown (25 percent), Cornell (23 percent), and Columbia (23 percent).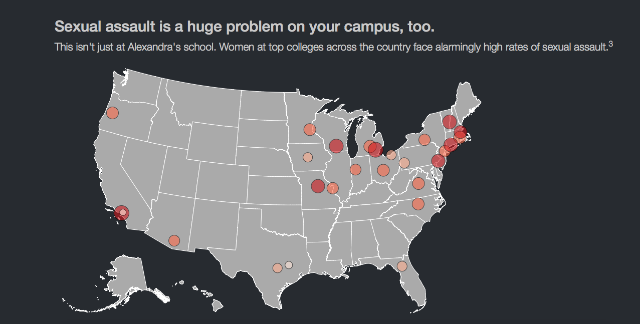 In CS 171, Mehta and fellow computer science concentrators Enrique Casas, A.B. '19, Javier Cuan-Martinez, A.B. '18, and Peter Youn, A.B. '18, set out to highlight not only the prevalence of sexual assault, but also the devastating effects on victims and the challenges of seeking justice.
They compiled information from national datasets and university reports to develop interactive visualizations. One graphic uses color-changing icons to highlight the percentage of undergraduate women who will be sexually assaulted (20 percent), the ratio of victims who know their assailant (90 percent), and the percentage of victims who don't report their assault (95 percent).
"We see these numbers and we recognize that this is a problem, but what about the victims?" said Casas. "It is really hard for people to understand the psychological, mental, or emotional trauma that happens after the assault. We wanted the victims' voices to be the focus."
They incorporated quotes from survivors into a quiz that asks whether different scenarios are examples of sexual assault. Victims discuss feeling pressured by a boyfriend, being physically abused by a violent partner, and being coerced into having sex by a fear of losing a job.
The project is also designed to help victims by providing details on how to report abuse and links to nonprofit organizations that serve survivors.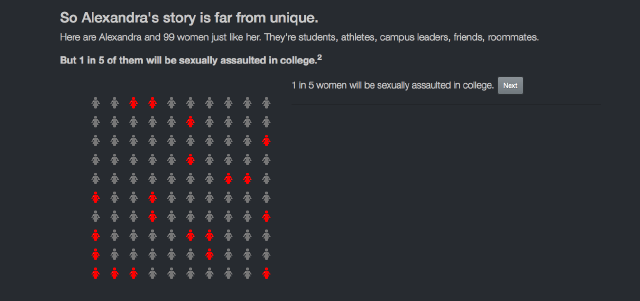 "This is such a heavy topic, it is easy to get consumed by the weight and the darkness of it all, and get so depressed you think there is nothing you can do about it," Mehta said. "Giving users some action items is important for getting the emotional tone right."
The Harvard University Title IX Office provides many resources, including details on how to file a complaint, procedures for students, faculty, and staff, and information about local hotlines and victim services organizations. In addition, President Drew Faust announced the creation of a Task Force on the Prevention of Sexual Assault in 2014; its final report, including recommendations to reduce sexual assault on campus, was issued in March 2016.
Seth Avakian, Program Officer for Title IX and Professional Conduct in the Office for Faculty Affairs and Graduate School of Arts & Sciences, was impressed by the students' project.
"It's exciting to see how students respond to Harvard's focus on preparing our students to be citizens and citizen leaders, apply the skills they learn in the classroom, and create a project that promotes a culture of respect, safety, and accountability to their peers," he said.
Cuan-Martinez said it was rewarding to create a resource that could help his peers, while contributing to an important, nationwide discussion. One of the most poignant lessons he and his teammates learned from the project is that data can be used for social good.
"These tech skills we are developing don't exist in a vacuum and they don't only need to be used for their own sake," Mehta said. "If you are creative enough and you have a mission, you can do really important things with these skills."
Topics: Academics
Cutting-edge science delivered direct to your inbox.
Join the Harvard SEAS mailing list.