Four seniors at the Harvard John A. Paulson School of Engineering and Applied Sciences (SEAS) were recognized for creating inventive, impressive engineering projects that have the potential to make a real impact. During the seventh annual Design and Project Fair on May 2, Dean Frank Doyle presented the students with the Dean's Award for Outstanding Engineering Projects.
The four winners were selected by faculty members for having the best projects in Engineering Design Projects (ES 100), a yearlong capstone course for seniors in the S.B. engineering program. Each student in the course designs and completes a creative project that solves a specific, real-world problem.
The award winners were:
Julia Ernst, bioengineering, for her project "Wearable Sensors for Assessment of Stress Distribution in Prosthetic Sockets" (advisors: graduate student Tyler Clites and postdoctoral fellow Ryan Truby)
Alicia Juang, engineering sciences – environmental science and engineering, for her project "Modeling Salt Marsh Restoration for Improved Carbon Storage" (advisor: Elsie Sunderland, Thomas D. Cabot Associate Professor of Environmental Science and Engineering)
Kelly Steeves, mechanical engineering, for her project "Ideal Temperature Mug" (advisor: Mike Aziz, Gene and Tracy Sykes Professor of Materials and Energy Technologies)
Scott Sun, electrical engineering, for his project "Miniature 3V-to-500V Convertor for Soft Actuators" (advisor Gu-Yeon Wei, Robert and Suzanne Case Professor of Electrical Engineering and Computer Science)
Each finalist received a certificate and $500.
In addition, the following students received honorable mention awards:
Braden Bowman, mechanical engineering
Erica Budina, bioengineering   
Bonirath Chhay, bioengineering    
Wesley Fabyan, bioengineering
Daniel Galindo-Navarro, electrical engineering
Rebecca Gracia, mechanical engineering
Jennifer Horing, mechanical engineering
Patrick Hansen, electrical engineering
Nicolas Ontiveros, electrical engineering
Joseph Pappas, mechanical engineering
Kristen Rodrigues, bioengineering
Jacob Scherba, bioengineering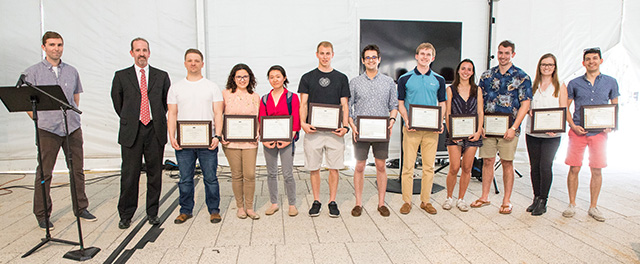 Cutting-edge science delivered direct to your inbox.
Join the Harvard SEAS mailing list.