In the slums of Delhi, thousands of people live in makeshift shanties and incomplete structures that offer little in the way of insulation against the blazing summer heat.
The city of 26 million is also choked by extremely high levels of air pollution, made worse in the fall when thick plumes of acrid smoke drift down to the city from the nearby agricultural region of Punjab, where farmers set fires to clear their fields after the harvest.
While the two problems may seem unrelated, a startup co-led by Daniel Cusworth, a recent graduate of the Harvard John A. Paulson School of Engineering and Applied Science (SEAS), is developing a unique product designed to help alleviate both of these public health issues.
Green Screen, founded by Graduate School of Design student Gina Ciancone, MUP '19, and also led by T.H. Chan School of Public Health graduate Ramya Pinnamaneni, MPH '18, and David Costanza, Technology Fellow at Rice University, is creating portable, lightweight screens from agricultural waste. The attachable screens are designed to cover gaps and openings in the incomplete structures, providing insulation and shade during the oppressive summer months.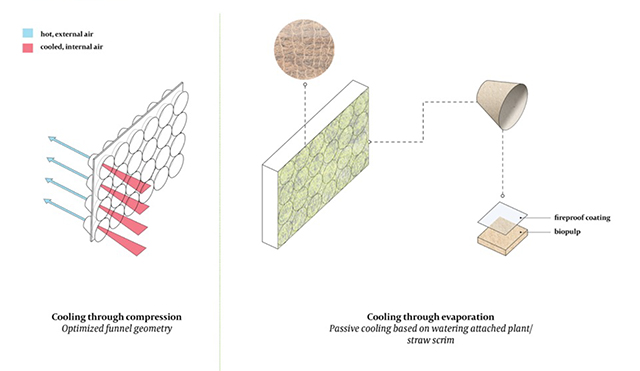 "In my atmospheric chemistry research, there is definitely a strong human wellness element," said Cusworth, Ph.D. '18. "But this project has been one of the first times I've actually seen the development of a tangible product that could go and address some of these problems."
Cusworth wasn't thinking about startup potential when he began researching air pollution in Delhi to quantify the effects of the agricultural fires.
Working in Harvard's Atmospheric Chemistry Modeling Group with Loretta Mickley, Senior Research Fellow in Chemistry-Climate Interactions at SEAS, he used NASA satellite data to pinpoint fires, then implemented a mathematical transport model of the flow of air through the atmosphere. Putting the two together, Cusworth simulated smoke being blown downwind over the city.
"The National Capital Region of Delhi has 50 million people; it has a ton of cars and industry, so it is already very polluted," he said. "How can we quantify how much this particular smoke is contributing to the already polluted region?"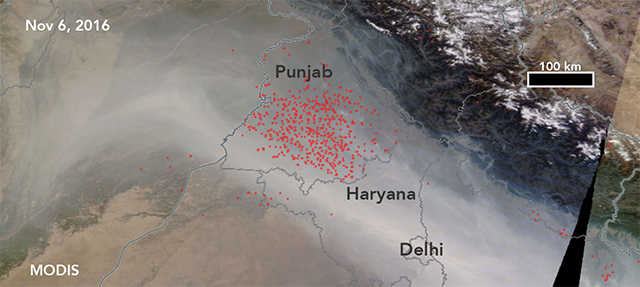 The research revealed that during the largest burning events between 2012 and 2016, about half of the air pollution observed in Delhi could be attributed to the agricultural fires. During those burning periods, researchers found levels of fine particulate matter that was nearly 10 times higher than the World Health Organization standard for clean air.
The research group published their paper in March and Cusworth, preparing to defend his Ph.D. thesis, thought his work on the fires was finished.
"Several other studies have looked at the co-variability between agricultural fires and Delhi's air pollution, but ours was the first to quantify the magnitude of pollution from fires. We hoped that would drive some action and policy changes," he said.
How can we quantify how much this particular smoke is contributing to the already polluted region?
A LinkedIn post about the research caught the eye of Ciancone, who reached out to Cusworth to enlist his help with the Green Screen project.
Using similar mathematical modeling techniques, Cusworth focused on each of the massive farms scattered around Punjab, a region that produces so much wheat it is known as India's breadbasket. He modeled how smoke and pollution would be impacted if each individual farm did not burn its fields, helping to pinpoint which farms the startup should target when it purchases agricultural waste for use in making the screens.
"It is a way to strategically motivate our decisions," he said. "If we want to reduce pollution for the largest number of people, where should we be looking at farms, and how much would that reduce pollution in the city?"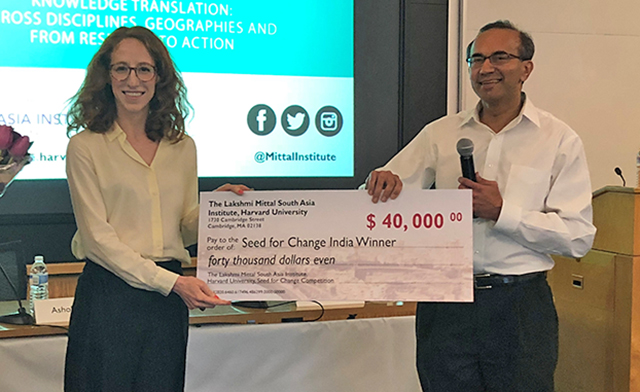 Building Cusworth's data into their pitch, the Green Screen team won $40,000 in seed funding in the Seeds for Change Competition, sponsored by Harvard's Lakshmi Mittal and Family South Asia Institute. They will use the funds to continue developing prototypes and visit India to see some areas where their product could be implemented.
The team is already working on an implementation plan with several non-governmental organizations in India, and will soon begin building relationships with farmers.
For Cusworth, it has been enlightening to learn from design and public health students, whose expertise are new territory for him, while bringing his knowledge and passion for atmospheric chemistry out of the lab.
"With this project, I've been using a bunch of datasets and models I have run on a supercomputing cluster from my office. Even though the public outcome is one that I am constantly thinking about, it is much more abstract. We are thinking about fires on a grand scale, and they seem very far away," he said. "Actually being able to hold the Green Screen prototypes and talk to people about where these might be implemented is a good reminder that this isn't just a class project or a mental exercise. It is actually something that has a potential to help people, and we hope it gets to that point."
Topics: Climate, Entrepreneurship, Environment
Cutting-edge science delivered direct to your inbox.
Join the Harvard SEAS mailing list.