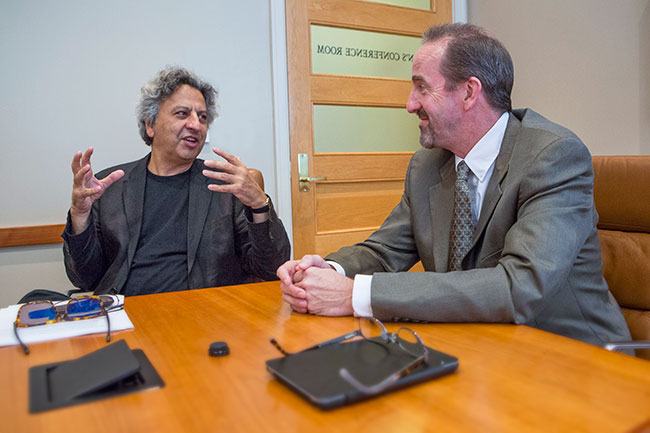 Cambridge, Mass. – Sept. 10, 2015 – Harvard University will begin offering a Master's in Design Engineering (MDE) beginning in fall 2016. The two-year program was developed and will be jointly taught by faculty from Harvard's Graduate School of Design (GSD) and John A. Paulson School of Engineering and Applied Sciences (SEAS).
The program is designed to give students the skills and knowledge to take a collaborative, innovative approach to large, technically deep, complex, multi-scale, and open-ended problems. The multi-disciplinary curriculum encompasses engineering and design as well as economics, business, government regulation and policy, and sociology. 
"Design Engineering will produce solutions to the myriad challenges that face the world, including extreme urbanization, the scarcity of resources, and the aging of populations," said Mohsen Mostafavi, Dean and Alexander and Victoria Wiley Professor of Design at GSD. "The aim of this program is to train creative leaders who possess the design skills and technical knowledge necessary for realizing projects that will enhance the lives of many across the globe."
"Emerging technologies and design practices offer unprecedented opportunities for innovation," said Francis J. Doyle III, the John A. Paulson Dean and John A. & Elizabeth S. Armstrong Professor of Engineering & Applied Sciences at SEAS. "From new materials and fabrication techniques to increasingly sophisticated distribution systems and prototyping technologies, practitioners today have at their disposal a powerful design engineering toolkit. The aim of this new program is to help graduates use those resources to address big systemic problems."
Graduates of Harvard's new MDE program will be qualified for careers that require broad problem-solving skills, including entrepreneurship, design, business consulting, technical consulting, innovative engineering, and business development.
"This new master's program embodies the strengths of Harvard's world-class design and engineering faculties in an innovative collaboration," said Drew Faust, president of Harvard University and Lincoln Professor of History. "It will encourage the quantitative, computational, visual and aesthetic thinking that will prepare students for leadership roles requiring broad problem-solving skills in industry, government, NGOs, and academia."
Students will take the equivalent of four courses per semester over two years, including a series of seminars and guest lectures by prominent innovators, designers, business leaders, and government officials. During the second year, students will select and complete a design project. This pedagogical approach builds on many years of experience at SEAS with project-based engineering capstone courses and incorporates the time-tested studio-focused instructional model of GSD.
Students enrolled in the program will be asked to develop practical, comprehensive plans to tackle real-world questions such as:
What would it take to convert the U.S. transportation system from its almost total reliance on gasoline to more stable, economical, and environmentally friendly alternatives?

How could the health care delivery system be transformed to yield better outcomes at lower cost?

What steps can cities take to adapt to rising sea levels and other climate change-induced environmental impacts with minimal disruption to society?

How can homes be designed to consume zero net energy by minimizing year-round heat transfer and incorporating on-site generation of electricity?

In developing products that integrate into the Internet of Things, how should companies design devices and services that balance individual privacy and security with the benefits of networked intelligence?
In addressing these design challenges, students will take into account technological, consumer acceptance, economic, regulatory, legal and other considerations.   
The pedagogical model is based on a cohort and the instruction will emphasize team-based problem solving. Candidates for admission will be selected to ensure a diverse group of students who bring a complementary range of skills, strengths, and perspectives.
The program also will include a robust advising component, with one-on-one tutorials, reviews, and critiques with faculty from both schools as well as experts in related engineering design fields.
Harvard's MDE program is intended for architecture, urban planning, engineering, and science professionals – individuals with an undergraduate degree, demonstrated technical literacy, and at least two years of real-world experience in engineering, design, government, and/or business.
Prospective students interested in learning more about the MDE program can visit www.seas.harvard.edu/programs/graduate/masters-in-design-engineering or contact designengineering@harvard.edu for application and admission information.
Topics: Design
Cutting-edge science delivered direct to your inbox.
Join the Harvard SEAS mailing list.
Press Contact
Paul Karoff