As the clock ticked down toward zero, tensions were running high in the crowded room. Anthony Firkser, A.B. '17, had just stepped out to take a phone call, and the crowd was growing restless.
The door swung open and Firkser re-entered. Punching a fist high into the air, he announced to the throng of friends and family that he had just signed with the New York Jets. They erupted into cheers, while Firkser, an applied math concentrator at the Harvard John A. Paulson School of Engineering and Applied Sciences, felt a surge of elation and a wave of relief that the tense NFL draft process had finally ended. He would be joining a team located only 45 miles from his hometown.
"I remember thinking that playing there some day would be a crazy opportunity, but I doubted it would ever happen to me, knowing the percentages of people who make it in the NFL," he said.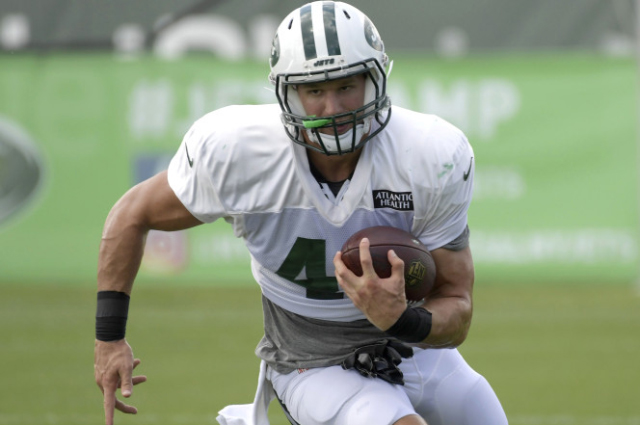 A football player since high school, the Englishtown, N.J. native enjoyed the collaborative, community-minded focus of the sport. He came to Harvard ready to take his athletic career to the next level, and played four years as a tight end/fullback mix on the varsity Crimson team.
For Firkser, Harvard offered the ideal match of rigorous academics and intellectual challenges, while still enabling him to play the sport he loves. But balancing a demanding applied math course load with draining football practices and grueling weight-room workouts was far from easy.
Burning the midnight oil with his peers over complex problem sets often made waking up for the next day's 6 a.m. football practice a struggle, but Firkser persevered.
"Being on a sports team and having that structure really helped me allocate my time," he said. "I had to get my work done on time and go to office hours when I could, so I could get enough sleep, follow good nutrition, and stay in top athletic shape. Athletics actually drove me to work harder in class and keep up with my studies."
The NFL gridiron and the classroom may seem worlds away, but the attention to detail and good study habits he learned at Harvard were useful during New York Jets training camp.
On his first day of camp, trainers installed more offense on the field than the Harvard Crimson had used during his entire four-year career, Firkser recalled. As he pored over the massive playbook, studying an extra hour or two each evening, his ability to rapidly learn and retain information helped him get up to speed.
As he was studying hundreds of plays by night, Firkser found himself training harder each day to keep up with the increased physicality of NFL football. Many teammates came from universities in major football conferences, like the Big Ten or the SEC, and he had to push himself to stay competitive.
Training camp was surreal for Firkser, from working out alongside NFL athletes in state-of-the-art weight rooms, to eating four or five carefully prepared meals a day in the team cafeteria.
"I'd be there at practice running through drills all day, and there would be kids yelling my name from the sideline, just trying to get my attention and say hello," he said. "I kept wondering, 'how do these kids even know me?' This culture and community the NFL fosters is amazing, and the fans have been fantastic."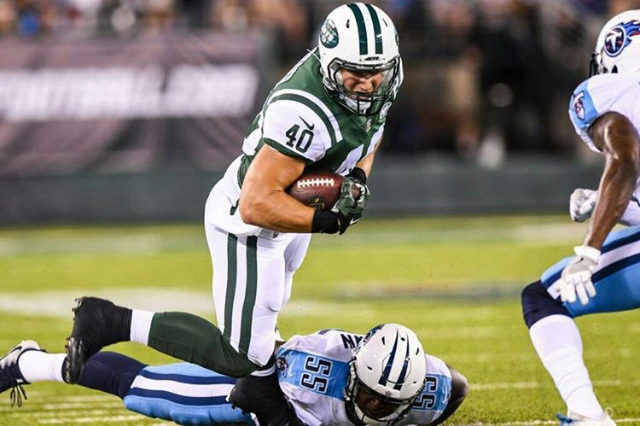 Firkser felt a mixture of excitement and apprehension the first time he showcased his skills during a televised preseason Jets game. Working out his jitters, he received a few words of encouragement from the other players in the huddle, reminding him this was just football.
Focusing on that advice, he was able to settle down and play the game, coming away with three receptions for 22 yards during the two pre-season games he played in. Being able to contribute to the team's success was a thrill, he said.
Though he was cut from the Jets' roster before the start of the regular season, he plans to stay in shape for the NFL in case he is picked up by a team later in the season. While playing in the NFL would be a fulfillment of his ultimate dream, Harvard has given him a strong foundation for other careers, too, and he plans to begin studying for actuarial exams.
"After going through the entire preseason and getting down to the final cuts, I learned to not take any opportunity for granted," he said. "You never know how long they may last, and it is important to make sure that you've given it your all so you have no regrets."
Topics: Applied Mathematics
Cutting-edge science delivered direct to your inbox.
Join the Harvard SEAS mailing list.