Cambridge, Mass. – March 11, 2013 – BASF SE, Harvard University, the Massachusetts Institute of Technology (MIT), and the University of Massachusetts (UMass) Amherst have established a research initiative called the "North American Center for Research on Advanced Materials."
A major goal of this initiative is to jointly develop new materials for the automotive, building and construction, and energy industries. The cooperation is initially planned for five years, during which time approximately 20 new postdoctoral positions will be created at the three universities.
"We are thrilled to be a part of this multidisciplinary, multi-institutional endeavor, which will connect and amplify Harvard's strengths in advanced materials research," said Cherry A. Murray, Dean of the Harvard School of Engineering and Applied Sciences. "The agreement reinforces our commitment to the pursuit of cutting-edge research targeted at high-impact areas of application."
Scientists and engineers from several disciplines such as chemistry, physics, and biology will collaborate in this research initiative. The academic partners not only contribute their expertise in materials science, modeling, and formulation methods, but also offer interesting, new approaches to conducting research. Besides fundamental scientific knowledge, BASF researchers will contribute the necessary experience in transforming research results into technically feasible processes and products. In addition, they will provide input about which materials are needed in different industries and applications.
The ideas and topics to be researched will be decided jointly by the researchers participating in the initiative. Topics already identified include micro- and nanostructured polymers with new properties, as well as bioinspired materials. The scientists are working on lightweight construction materials for wind turbines and automotive construction, for example, and on new color effects for cosmetic applications.
The new, multi-university initiative builds on the successful model pioneered by the BASF Advanced Research Initiative that was based at Harvard SEAS from October 2007 to present. Established with leadership from Harvard's Office of Technology Development, that initiative engaged 13 academic research groups across the University and resulted in significant advances in the study of biofilms and of chemical formulations for drugs, foods, and cosmetics.
"Our relationship with BASF provides us with many excellent scientific problems that are both intellectually challenging and relevant to real-world needs," said SEAS faculty member David Weitz, Mallinckrodt Professor of Physics and Applied Physics at Harvard. "We're thrilled to continue this collaboration and have the opportunity to share insights across institutions in a new way. Anything that helps build interactions among the incredible talent in this region is good for all of us."
Weitz will serve on a scientific advisory committee along with George Whitesides, Woodford L. and Ann A. Flowers University Professor at Harvard; Robert Langer and Mary Boyce at MIT; and Todd Emrick and Alan Lesser at UMass Amherst, along with BASF scientists.
"We need the creative spirit of the widest possible range of sciences to develop solutions to meet the needs of a growing world population for clean drinking water, secure energy supply, and improved quality of life," said Christian Fischer, President of BASF's Advanced Materials and Systems Research. "I am convinced that BASF's market-oriented materials and systems researchers, together with the outstanding scientists at the American universities, make up the ideal team for seeking out technically and economically viable solutions."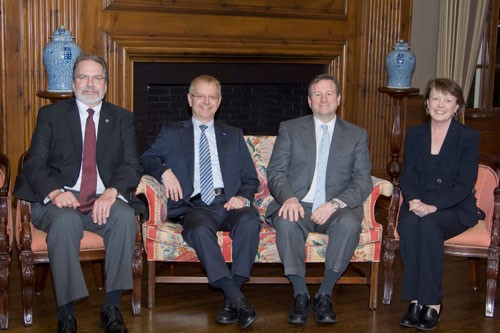 ###
About the Harvard School of Engineering and Applied Sciences
Harvard School of Engineering and Applied Sciences serves as the connector and integrator of Harvard's teaching and research efforts in engineering, applied sciences, and technology. Through collaboration with researchers from all parts of Harvard, other universities, and corporate and foundational partners, we bring discovery and innovation directly to bear on improving human life and society. For more information, visit http://seas.harvard.edu.
About the Harvard Office of Technology Development
The Harvard Office of Technology Development (OTD) provides a one-stop shop to advance the development of groundbreaking discoveries by fostering strategic collaborations with industry through licensing, sponsored research and new venture agreements. OTD's mission is to make the fruits of Harvard research more accessible outside the University, including underserved communities, and ensure that society benefits from Harvard innovations by fostering their swift, professional and effective development and commercialization. Visit http://otd.harvard.edu.
About BASF
BASF Corporation, headquartered in Florham Park, New Jersey, is the North American affiliate of BASF SE, Ludwigshafen, Germany. BASF has more than 16,900 employees in North America, and had sales of $18.7 billion in 2012. For more information about BASF's North American operations, visit www.basf.us.
BASF is the world's leading chemical company: The Chemical Company. Its portfolio ranges from chemicals, plastics, performance products and crop protection products to oil and gas. We combine economic success with environmental protection and social responsibility. Through science and innovation, we enable our customers in nearly every industry to meet the current and future needs of society. Our products and solutions contribute to conserving resources, ensuring nutrition and improving quality of life. We have summed up this contribution in our corporate purpose: We create chemistry for a sustainable future. BASF posted sales of €78.7 billion in 2012 and had more than 113,000 employees as of the end of the year. BASF shares are traded on the stock exchanges in Frankfurt (BAS), London (BFA) and Zurich (AN). Further information on BASF is available on the Internet at www.basf.com.
Topics: Materials, Technology, Environment, Applied Physics
Cutting-edge science delivered direct to your inbox.
Join the Harvard SEAS mailing list.
Scientist Profiles
Press Contact
Caroline Perry